November 28, 2012 | by Sadie Stein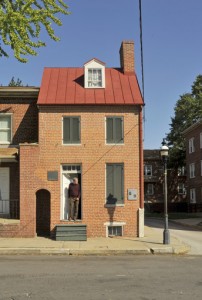 It seems like every week there's a new indignity, whether it's the destruction of the church where the Brontës worshipped, the theft of George Eliot's desk, or, now, the vandalism of the house where Edgar Allan Poe lived and worked in the 1830s.
For the second year in a row, the City of Baltimore has chosen not to grant the Poe House its $85,000 subsidy; as a result, despite efforts of supporters and friends, it may have to close permanently. In any event, the museum has been shuttered since September, and as such left more open to destruction; the front stairs have been stolen and graffiti painted on the door. Nothing that can't be fixed, but we expected more respect from the officials of the only American city to name its football team after a literary allusion.