June 13, 2012 | by The Paris Review
Don't miss it! Tonight at 7 P.M., join us for the kickoff of our event series at the Strand, where (in addition to enjoying performances, mingling, and wine) we'll announce the finalists of our tote-bag contest.
To celebrate our collaboration, we asked you to submit designs for our newest tote bag. And did you deliver! Below, find a few of our favorites! (Thanks, everyone!)
June 1, 2012 | by The Paris Review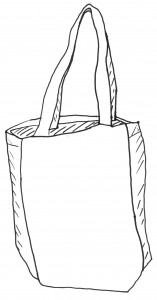 As readers of this space will recall, we've put out an open call: our next tote bag, a collaboration with the Strand Bookstore, will be designed by … you!
And due to overwhelming demand, we're extending the deadline by a week. The deadline is now: Friday, June 8.
Get in touch with your inner graphic designer/illustrator and design a tote bag that features the original Paris Review logo (as seen on our homepage and the cover of the magazine) and remember to leave room for the Strand oval, too. You can incorporate old cover art, go all graphic, or dream up something completely your own. (For further inspiration, check out our current totes!) We want to know what the Review means to you!
Submission deadline: Friday, June 8, 2012
Find both logos here
Artwork maximum size: 10 inches by 10 inches
EPS vector format preferred; 300 dpi acceptable
Send your entry to contests@theparisreview.org
The winning design will be revealed at the inaugural event at the Strand on June 13, 2012.

Top entries will be posted on the Paris Review Daily. The grand-prize winner will receive a Strand shopping spree and a year subscription to The Paris Review. Plus, of course, your tote.