June 27, 2012 | by Courtney Fitzpatrick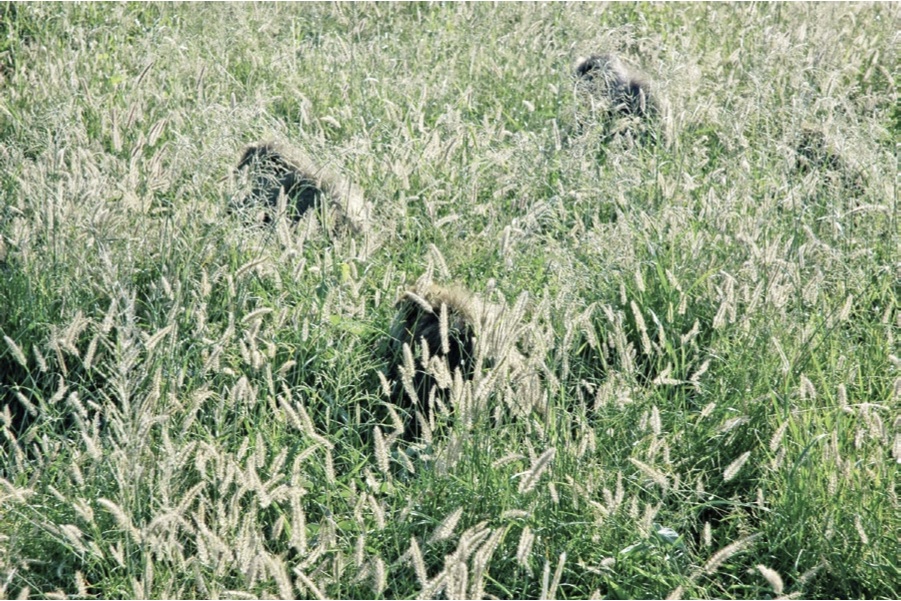 May 2011, Durham, North Carolina. It is late spring and the rain comes heavy in this old tobacco town. Rivulets carve tiny tributaries into the Durham Triassic Basin. Soaking up the water, the red clay swells, and then offers up an overture of honeysuckle blossoms and sugar snap peas for the upcoming symphony of tomatoes and sweet corn.
In October of 2008, I traveled to another basin, a former Pleistocene lake in Kenya. In Amboseli, my intention was to study the evolution of mate choice and fertility signals in a population of wild baboons for my dissertation research. I was working with the Amboseli Baboon Research Project, an ongoing project that began more than four decades ago. Since the time that Kenya became free of British colonial rule, when the Amboseli basin was thick with rhinoceros, researchers from the United States have been following the daily lives of the baboons in Amboseli. The births of infant male Suede, born in November of 2008, and his younger brother Saa, born in August of 2010, were like bookends on my time in Amboseli. Sorghum, their lean and lanky mother, has a coat that seems dusted with ochre undertones like the deep red soil of Amboseli, and the clay from the Triassic basin. She is high-ranking and she certainly knows it. Born into a lineage of great fortune, she is the daughter of Sera, who was the daughter of Sana, who was the daughter of Safi, who was the daughter of Spot, who was the daughter of Alto, who was one of the first adult females to be identified in Amboseli by Jeanne and Stuart Altmann in 1969.
April 13, 2012 | by Sadie Stein