Posts Tagged 'Audrey Hepburn'
June 24, 2013 | by Pedro Almodóvar
Although we associate comedy with spontaneity, the comedies I've made to date—including this new one, I'm So Excited!—are rehearsed exhaustively during preproduction and afterward during shooting. Spontaneity is always the product of rehearsal.
A script isn't finished until the film has opened. I rehearse a script as if it was a play. As it happens, both Women on the Verge of a Nervous Breakdown and I'm So Excited! are play-like, in the sense that the action takes place mainly on one set. I rehearse them like plays, but I don't film them like plays (actually, I've never directed a play, so I don't know what it's like). They're very verbal comedies: the action lies basically in the words and in the openness of the characters.
I usually improvise a lot in rehearsals, then I rewrite the scenes and rehearse them again, and so on, to the point of obsession. With improvisations, the scenes usually grow longer, but it's the best way I know to find nuances and parallel situations that I would never discover if we stuck rigidly to the script. After stretching the scenes out and blowing them up, I rewrite them again, trying to synthesize what has been improvised. And then we rehearse again. Some of the actors, especially Carlos Areces, can't bear you to cut a single one of their jokes, even if it has come up while the scene is looking for itself and hasn't yet gelled. Everything that comes up and involves his character belongs to him. If it were up to him, the film would last three hours. (At times I shoot two versions of the same scene, and I admit that at times I edit the "improvised" one.) Lola Dueñas is another one who immediately appropriates all the antics that occur to me during the first rehearsals. Afterward, it's heartrending to tell her that it was just a game, a way of stretching, of being crazy, of probing, of losing all sense of the ridiculous—above all losing respect for the script—and that it was all just an exercise. When Lola sees me improvising a scene with her character, however exaggerated it may be, if she likes it, she grabs on to it and it's impossible to convince her that I was just fooling around. I admit that at times she's managed to get her own way. When I had the idea for the mise-en-scène of the first time she goes into a trance in the cockpit, looking for sensations while groping the two pilots' bodies, all those involved laughed, but I never thought about editing the scene like that—and yet that's how it turned out in the film. After much insistence, Lola asked me at least to look at how she did it and then decide. The point was, I had to give her the chance to play the scene that way. She did it, and after seeing it, I had no choice but to include it. Lola is capable of breathing such truth into the most insane situations that she manages to make any craziness plausible. Read More »
June 7, 2012 | by Alexandra Pechman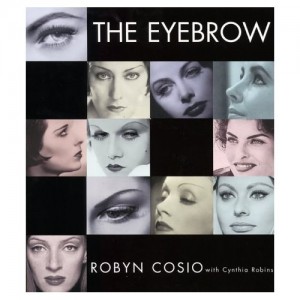 My first "boyfriend" broke up with me at camp in a letter that read, "You look like the girl from Planet of the Apes—I mean the ape she played, not the girl who played her." He meant Helena Bonham Carter in the Tim Burton version that had come out that summer. More specifically, he meant that for an eleven-year-old, I had very unruly and freakishly thick eyebrows.
Having kempt mine since that summer (on a necessarily frequent basis), I notice eyebrows more often than is normal; they bear special significance to me. Midway through Alfred Hitchcock's Shadow of a Doubt, Charlie confronts her uncle about his awful secret life as a woman strangler. Sitting across from him at a seedy bar, she watches his hands painfully wringing a napkin, then she tells him all that she knows: wordlessly, she raises a single eyebrow. The plot hinges on that one thin line of hair. Read More »