Posts Tagged 'Atticus Lish'
November 12, 2014 | by Dan Piepenbring
Our current issue features Atticus Lish's story "Jimmy," an excerpt from his new novel, Preparation for the Next Life. The novel is out this week, and we're elated to report that it's just received a rave review from Dwight Garner in the New York Times:
This is an intense book with a low, flyspecked center of gravity. It's about blinkered lives, scummy apartments, dismal food, bad options. At its knotty core, amazingly, is perhaps the finest and most unsentimental love story of the new decade … Atticus Lish has written a necessary novel, one with echoes of early Ken Kesey, of William T. Vollmann's best writing and of Thom Jones's pulverizing short stories.
Many congratulations to Atticus on the well-deserved praise. Read a brief excerpt from "Jimmy" here, and pick up a copy of Preparation for the Next Life here.
September 2, 2014 | by The Paris Review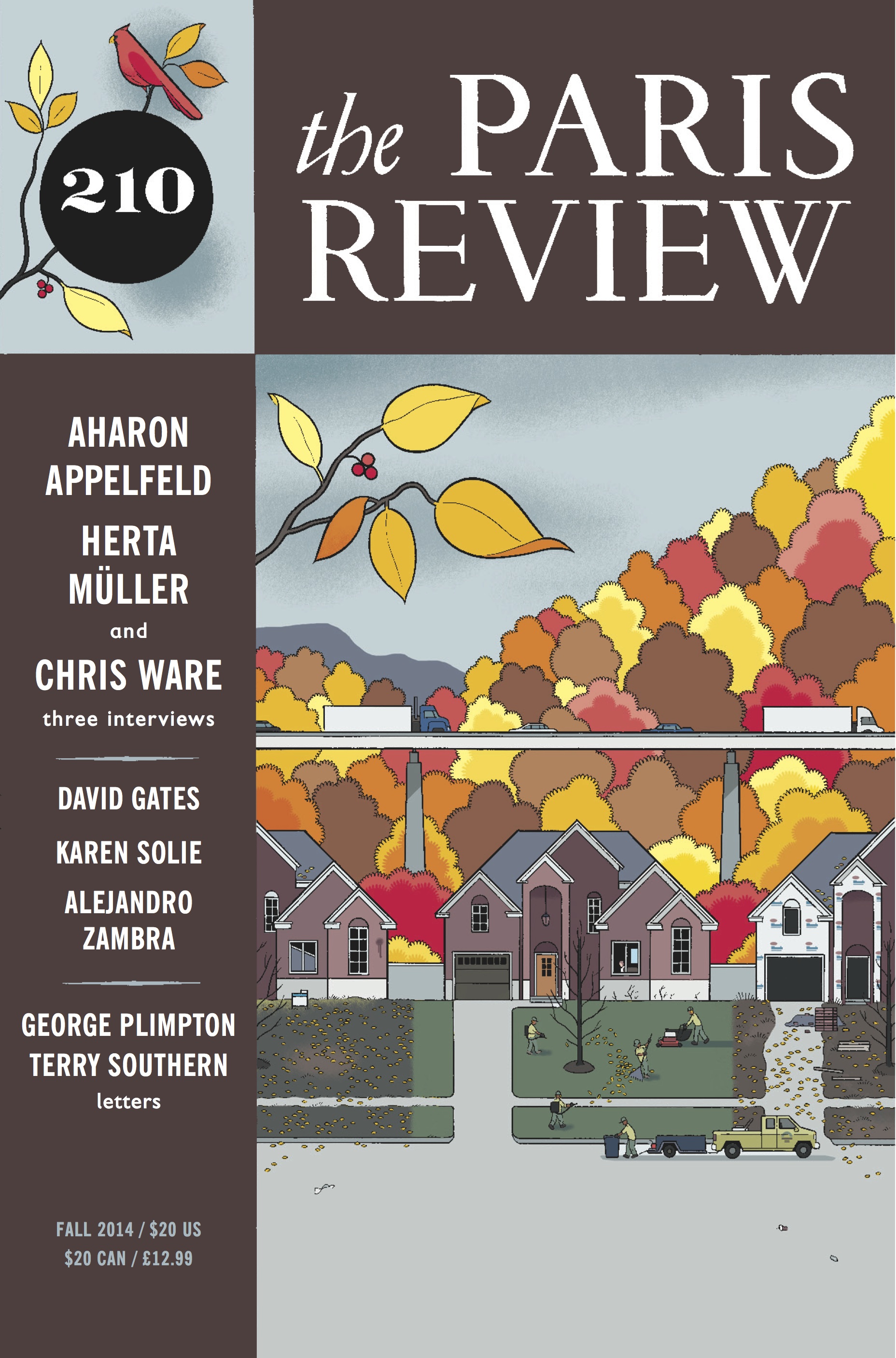 You may recognize the distinctive hand behind our autumnal cover art—that's Chris Ware, who's interviewed in this issue about the Art of Comics:
I just figured there must still be various ways to make art "about" something without making it bad or sentimental. Comics basically seemed a way toward this goal for me … I think cartooning gets at, and re-creates on the page, some sixth sense—of space and of being in a body—in a way no other medium can quite so easily, or at least so naturally.
Then there's our interview with Aharon Appelfeld:
My nights are a nightmare, quite often, but the nightmares are rich—rich in human behavior, rich in feelings, rich in sensations. I nourish myself by those nights. They nourish me.
And in the Art of Fiction No. 225, the Nobel Prize–winner Herta Müller discusses her early fascination with plants ("They knew how to live and I didn't"), life under Ceauşescu, and her approach to the sentence:
I'm not hungry for words, but they have a hunger of their own. They want to consume what I have experienced, and I have to make sure that they do that … The language knows where it has to wind up. I know what I want, but the sentence knows how I'll get there.
There's also an essay by David Searcy; the final installment of Rachel Cusk's novel Outline, illustrated by Samantha Hahn; fiction by David Gates, Atticus Lish, and Alejandro Zambra; and poems by Karen Solie, Stephen Dunn, Maureen M. McLane, Devin Johnston, Ben Lerner, Frederick Seidel, Linda Pastan, and Brenda Shaughnessy.
And finally, a portfolio of letters between George Plimpton and Terry Southern, circa 1957–58, in which Southern writes of this magazine, "[its] very escutcheon has come to be synonymous (to my mind at least) with aesthetic integrity, tough jaunty know-how, etc."
Get yourself some of that integrity and know-how—subscribe now!