Posts Tagged 'Atmospheric Disturbances'
June 11, 2014 | by Alice Whitwham
In 2008, Rivka Galchen published Atmospheric Disturbances, a novel about a psychiatrist who wakes up one day to discover that his wife has been substituted by a replica. He subscribes to the delusions of a patient (who believes he can control the weather) to explain her disappearance. What James Wood referred to as the narrator's first-person "double unreliability" made for a richly inconclusive novel about the confusion and mystery of love.
In her new story collection, American Innovations, Galchen, who has a background in medicine, returns us to worlds in which weird things happen. A woman watches the objects in her Brooklyn apartment leave of their own volition; a student of Library Sciences develops a third breast; refrigerated string cheese won't stay put. Galchen's stories suggest oppositions that dissolve in their own reversals: real things take on the patina of the artificial, while the fantastic and strange can feel more real than what we call real life. To read her stories is something like using a map without contours or coordinates; it's impossible to plan your trip.

Over e-mail, Galchen and I discussed fiction's relationship to field geology, the peculiarities of the short story as a form, and the allure of McDonald's. Galchen is exhilaratingly imaginative, precise, and generous.
Why is the story a form you return to?
Short stories feel found to me—I like that about them. Of course, they're actually not found, they're written, just as novels are written, but they seem to have a more dense and unchangeable core than novels do, or at least it seems like one reaches the immutable core faster.
I like how stories can feel like some shiny thing on the ground, something that might be malachite, or might be a fragment of a comet, or might be a rusted old ignition. The writing process for a short story feels more like field geology, where you keep turning the thing over and over, noting its qualities in detail, hammering at it, putting it near flame, pouring different acids on it, and then finally you figure out what it is, or you just give up and mount it on a ring and have an awkward chunky piece of jewelry that seems weirdly dominating but that you for some reason like. I could be wrong about field geology here.
Where do you find your stories?
Sometimes I wonder if it's immaterial things rooting around to find their material. For example, I have a story set in large part in a McDonald's, there's a young girl at the center of it, it's in many ways a kind of love story, but why McDonald's? McDonald's was just sitting there in the old costume trunk of the back brain, and there was some inchoate emotion trying to play its little tune, and for whatever congregation of reasons McDonald's was ideally useful to that emotion. It gave it the right language—probably in part because of that weird residue of how enchanting McDonald's used to be when we were kids, how it was all an outsize luxury. And then, of course, it looks so different to us today. I think it has something to do with the question, What is it fiction is actually good at? What can it do that's not better done with, say, a long piece of journalism, or a photograph, or a TV show? And that, in turn, has something to do with the intangible murk from which stories start to organize themselves. That intangible murk is the part that feels found to me. Read More »
December 19, 2011 | by Francisco Goldman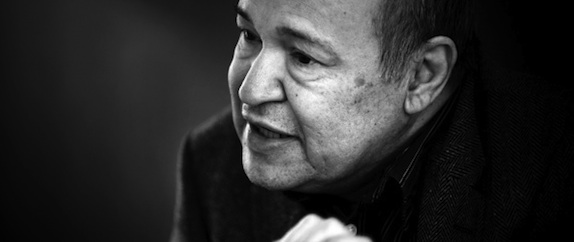 Roberto Bolaño considered Daniel Sada to be without rival among Mexican writers of their generation. Both were born in 1953. Bolaño spent his adolescence in Mexico, and even though some of his greatest novels and stories have Mexican settings, he never set foot there again after moving to Spain in his early twenties. I imagine that Bolaño must have relied, at least to some extent, on Sada's novels—Sada's perfect ear and exuberant re-creation of Mexican voices, the voices of the Mexican desert north especially—while writing his own Mexican masterpieces. Sada's works were a polyphonic parade of voices, a Mexican cacophony: shouts, laughter, violent, lewd curses, sweet whispers, song.
"It was a place rarely visited, but attractive, four kilometers to the south of Sombrerete. There was a barranca whose abyss made you want to stop and contemplate it, and a cascade of crystalline water, thin and capricious." So opens, modestly enough, Sada's novel A la vista, published months before his death this year, on November 18. In the next sentence, Sada strikes a more characteristic note: "También había un ornato de árobles por doquier"—that ornato is a peculiar and Sada-esque word, impossible to translate, the whole phrase delicious to pronounce, though all it means, really, is that there were also a lot of trees around, and "a temperate year-round climate." "The great thing about that place," Sada goes on to write, "was that it was limited to the efficacy of words, as no photograph existed to give a more precise notion of the supposed marvel." The description, the reader realizes by the end of the paragraph, is a set-up for a real estate scam. (As it turns out, there is no cascade, and no trees, only that abyss, and the climate.)
Bolaño compared Sada's baroque writing style to Lezama Lima's, by way of making the point that because the Cuban Lezama's baroque reflected the crowded natural effulgence of the tropics, Sada's baroque is a more impressive verbal invention, a baroque of the desert. Read More »