August 4, 2014 | by Fritz Huber
The growing redundancy of sports commentary.
You're gonna have to learn your clichés. You're gonna have to study them, you're gonna have to know them. They're your friends. Write this down: 'We gotta play it one day at a time.'
—Bull Durham

They smelled the jugular.
—Sportscaster Chris Berman, during the 2002 NFL playoffs
In 1945, George Orwell's "The Sporting Spirit" appeared in the leftist weekly Tribune. The essay argued that large-scale athletic competition, rather than creating a "healthy rivalry" between opponents, is more likely to rouse humanity's "savage passions." Thus: "There cannot be much doubt that the whole thing is bound up with the rise of nationalism—that is, with the lunatic modern habit of identifying oneself with large power units and seeing everything in terms of competitive prestige."
To a contemporary reader, Orwell's assessment of the "sporting spirit" may feel exaggerated, if not slightly paranoid. Then again, in an age of rampant merchandising, zealous fandom feels more pervasive than ever. Not long ago, riding the subway, I saw an infant with a San Francisco 49ers pacifier; in the same car, there was a man wearing an Ohio State football sweater bearing the laconic slogan, "Fuck Michigan." What Orwell might have thought of such displays of allegiance is anyone's guess.
But what he would find troublesome is sports culture's continued abasement of the English language. Professional sports jargon has become so vacuous that TV interviews with athletes are increasingly farcical—and tremendously boring. An interview with LeBron James, after a botched play at the end of a quarter:
INTERVIEWER: Lebron, what happened with you and Norris on that inbounds pass?
JAMES: We didn't execute.
INTERVIEWER: You were talking to him as you guys walked off the floor. What did you say?
JAMES: That we need to execute better.
Perhaps such vagueness is intentional: if LeBron James had, in fact, just told his teammate that if he makes the same mistake again he's going to rip his face off, he'd be disinclined to share it with a national audience. For similar reasons, a coach interviewed at halftime isn't going to be too forthcoming when asked to reveal his strategy for the remainder of the game: "Well, Chris, we've just gotta keep pressuring their quarterback and not make any unnecessary mistakes." Read More »
July 10, 2012 | by Chris Wallace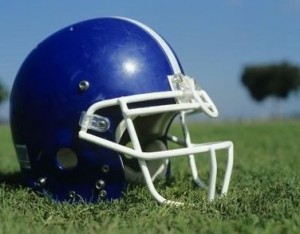 Late in the third quarter of a blowout loss at North Torrance High School my junior year I woke up in a blurry huddle. Grids of stadium lighting were smeared on the South Bay night sky as if they'd been moved before they dried. My teammates stood around me in their away whites, the sateen jerseys looking smudged and shabby in the dark. I shouldn't have been surprised if a star suddenly dilated just to wink at me, such was my loopy state of mind—and my self-regard as a high school quarterback.
A timeout had been called, apparently. There was no apparent rush to get back to the line of scrimmage, run another play. And our coach was in the huddle with us. Oh, thank god, I thought, Coach is playing. I'd never seen him in uniform before, but didn't think to question it—we needed all the help we could get. Though, standing next to the star receiver with whom he'd traded outfits, he did look a lot taller than normal.
Reassuring counsel was given by someone, maybe me, as we gathered ourselves to go back on.
We settled on a simple play: everyone run as far as you can as fast as you can, and I'll throw the ball to one of you, ready, break. I stepped under center in a kind of euphoria, took the snap, dropped back and threw our coach—or, rather, the receiver onto whom I'd transposed Coach's face—a forty-two-yard touchdown, and walked off the field, vindicated and giggling.
A blink and it was two hours later. Read More »