April 7, 2014 | by Alexander Aciman
We're recapping the Inferno. Read along! This week: a swarm of snakes and a sinner with a sense of privacy.
Let's begin by addressing the fact that these similes are getting out of hand. In the early parts of his poem, Dante's similes were often only three lines long. Now—just as he did in the beginning of canto 22, when he describes battlefield scenes while traveling with the demons—he presents us with a long, roving simile about a peasant who sees the snow melt and knows it is time to herd his sheep again.
At the end of canto 23, Virgil realized there was no longer a way to pass from the realm of the lead-cloaked sinners to the next ditch—the bridge is out. This is one of the few indications (like the sinner crucified to the ground in 23) that the geography of hell changes over time. But soon, seeing that Dante is anxious and scared, Virgil devises a plan to get them over to the next area by scaling a few boulders. Dante, daunted and exhausted, admits that "were it not that on this side of the dike the slope were shorter—I cannot speak for him—I would have given up." This is the sort of phrase that translators and scholars will laugh at, because it's an example of Dante's subtle, ironic sense of humor: he announces that he cannot speak for Virgil, and yet has done so for the entire length of the poem so far. Read More »
December 22, 2011 | by Rachael Maddux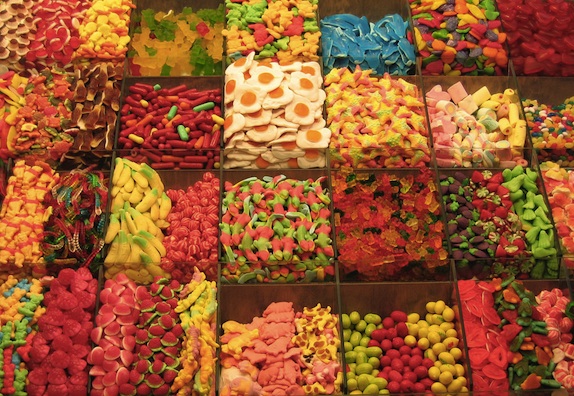 My first shift at the candy store was on the first day of October, my last just before New Year's, but when I talk about it now, what I say is, "Last Christmas, when I worked at the candy store."
In the world of candy stores, and this candy store in particular, Christmas is a perpetual condition that just happens to spike at the end of the year. A red-and-green decorating scheme carried throughout the shop—I could not escape it, even when I retreated, as I sometimes did, to the store's one bathroom, also tinged with red and green, just to shut out the world for a minute or two. On the sales floor, the shelves were heavy with saltwater taffy and boxes of truffles and delightfully analog toys—balsa gliders, pick-up sticks, chunky wooden puzzles. The general effect was that of being buried inside the holiday stocking of a child who'd been very, very good that year—along with the child himself, and a hoard of his less well-mannered friends and their overstressed, oblivious parents.
I took the gig shortly after finding myself laid off from the job I'd had for the last four years as an editor at a music magazine. I felt adrift and thought tending to a candy store, such a bastion of simple pleasures, might anchor me more firmly to the world, and also I thought that money might be a thing I'd might want to have again. But in my vague desperation I had forgotten about humans' terrific knack for rendering even the most ostensibly pleasant pursuits completely soul crushing, and how that tendency increases as the winter days darken.