Posts Tagged 'Art Blakey'
October 23, 2013 | by Aaron Gilbreath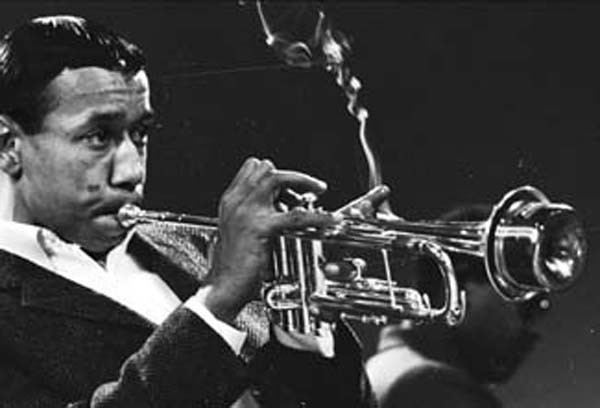 In 1965, celebrated jazz trumpeter Lee Morgan released the song "Speedball" on his album The Gigolo. A year earlier, the title track from his album The Sidewinder had become the biggest hit in Blue Note Records's history, reaching number twenty-five on the Billboard LP charts, even appearing on a Chrysler TV commercial during the World Series. Although "Speedball" never attained the commercial success of "The Sidewinder," it endures as one of Morgan's best-known originals, and, with the possible exception of Art Pepper's album Smack Up, its title serves as the most barefaced allusion to the monkey on midcentury jazz's back.
Drugs, risk, rebellion—this unholy trinity seems more evocative of rock-and-roll longhairs than clean cut men in suits, yet these dark elements remain central to the jazzman archetype established by Charlie Parker. Between the midforties and early sixties, tons of talented players were strung out: Art Blakey, Hank Mobley, Sonny Rollins, Miles Davis, Grant Green, Dexter Gordon, Jackie McLean, John Coltrane. If Coltrane later provided a countervailing archetype—the sober, spiritually aware, gentle genius—then Parker embodied creativity's menacing, consumptive side. Morgan got lost between these poles. A promising, prodigy it-kid, he received his first trumpet at age thirteen. Five years later, he joined the Dizzy Gillespie Big Band. That same year, in 1956, he recorded his first Blue Note album as a leader, and soon after played on now legendary recordings such as Coltrane's Blue Train, at age nineteen, and Arty Blakey's Moanin', at twenty. His own early output ranks as nothing short of astonishing—eleven albums as a leader by age twenty-two—which is why his 1961 departure from Blakey's Jazz Messengers takes on the sinister weight of an omen. Read More »
August 15, 2012 | by Michael Spies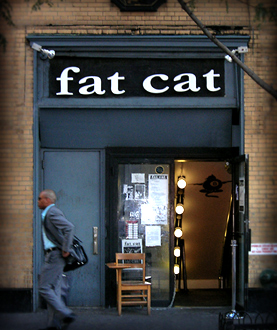 Occasionally, when my mind is feeling overrun, flickering and buzzing like a dying electric light, I go down to Fat Cat on Christopher Street, in the West Village. Of the standard venues one goes to see jazz in New York City, Fat Cat is not one of them. The club is a huge recreation center, a dark and boozy suburban fantasy basement packed with pool tables, Ping-Pong tables, foosball tables, plush couches, dusty rugs, shuffleboards, chess boards, and booths where skinny NYU students play Backgammon or Scrabble. If the alcohol were removed, it would be a perfect place for a children's birthday party. Above the music swirl youthful, exuberant screams of delight, punctuating either a winning serve or an eight ball sunk in its intended pocket. And off to one side, like an afterthought, is a makeshift bandstand, and at a certain late hour on most evenings there is a jam session in progress. Most of the drinkers busy themselves with games, but a few hang around and listen to a group of nomadic musicians riff on, say, "Polkadots and Moonbeams." Nearby, expectant bass players hug their encased, cumbersome instruments, impatiently tapping their feet, waiting to get in on the action—they've just come from a low-paying gig across town, seeking a real payoff.
It is a high-art frat party, a safe zone where all kinds of New Yorkers can, for a night, indulge in what they may loathe, but perhaps long for: a sense of cultural superiority on the one side, or a bit of dumb Greek fun. No one seems particularly interested in jazz, save for the sidelined musicians, who are restless because they have talent to burn, if only they were given the opportunity. Because I'm myself restless, a writer waiting his turn, I have, more than once, gone to the club alone to stand with them in an improvised support group. Together we watch those musicians onstage take up their instruments. We watch them get acquainted and blunder and stumble into the opening bars of the tune, trading insecure glances, wondering if they'll find the groove. We watch the trumpet player step forward for the first solo, puff out his chest, and raise the bell of his horn. We hear his first notes, typically tentative, as if he's dipping his foot in the melody, just testing it out. And we hear him finally dive in, headlong, committing to the sound.