Posts Tagged 'Arnold Bennett'
October 14, 2014 | by Dan Piepenbring
My continuing odyssey across the World Wide Web—I'll read it all, someday—has yielded these two gems from the public domain, both early constructions of the literary agent as a type; neither, I'm sorry to say, is very flattering.
Now as then, agents get a bad rap. In the popular imagination, they're usually seen as unscrupulous middlemen, always on the phone, insistently plying their wares. The agent, we're told, is a necessary evil at best, or, at worst, the first in a line of craven corporate interests designed to suck the marrow from a writer's work, making it suitable for a wide and churlish readership. In movies, writers are always seeking agents, falling out with agents, or at the very least nervously talking to agents, twisting the phone line in their fingers. And then there's the editor-agent relationship, in which the agent never wins: he's either part of a profit-obsessed cabal keeping subversive "new voices" out of print, or he's a tasteless entrepreneur disturbing the delicate rapport between editor and author.
I'd thought all this was a fairly recent phenomenon—I had always imagined it came from the eighties, when publishers couldn't conglomerate fast enough and the soul was said to have fled the industry—but these two old books suggest it's been going on much longer than that. Which makes sense: in publishing, the sky is always falling. Every year is an abysmal year for books and a terrific year for books. Editors no longer edit, except when they do; publishers care only for their bottom line, except when they don't; the three-martini lunch is always dead, always quietly continuing. That's what's fascinating about these excerpts: they're both about a century old, documenting that same thwarted intersection of art and capitalism.
First, from Arnold Bennett's Books and Persons, an essay collection composed of work from 1908 to 1911, the parts cited below being from 1908: Read More »
December 28, 2012 | by John Lingan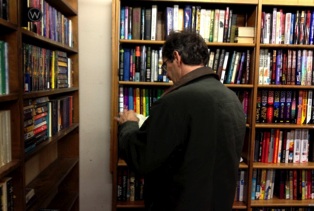 We're out this week, but we're re-posting some of our favorite pieces from 2012 while we're away. We hope you enjoy—and have a happy New Year!
I was dragging my five-year-old daughter through the musty stacks of my favorite used bookstore last spring when a middle-aged man, squatting in the Sci-Fi section next to a brimming cardboard box, caught my eye and reminded me of someone.
"Excuse me," I asked, "are you a writer?"
"I am," he said, standing up and straightening his glasses. His eyes were deep set and hard to read. He was bashful.
"Are you Michael Dirda?" I asked.
"I am."
It was him: the book critic and author, winner of the Pulitzer Prize, known apocryphally as the best-read man in America, whose essays had enticed me to read everything from Little, Big to Three Men in a Boat—and here he was, squinting his way through the lowest shelves in the same crusty bargain dungeon I came to all the time.
"Amazing. Nina, this is the man who wrote that little letter that we have in your George and Martha," I told my daughter. Nina was nonplussed.
"When I was eight, in 1992," I explained, "I wrote a letter to the Washington Post when James Marshall died and you printed it in the Book World section and even wrote a sweet little response. And her grandpa put a photocopy of that letter in The Complete George and Martha for her."