Posts Tagged 'Aram Saroyan'
July 16, 2014 | by Aram Saroyan
In early 1989, I telephoned Daniel Fuchs (1909–93), then in his eightieth year, in Los Angeles to ask about the possibility of interviewing him for The Paris Review. The novelist and screenwriter—heralded for his Williamsburg Trilogy of the 1930s (Summer in Williamsburg, Homage to Blenholt, and Low Company) and Love Me or Leave Me, for which he won an Academy Award—was cordial and open, but stipulated that he preferred to have the questions sent to him; he would mail back his answers. I sent the questions, twenty-seven of them, to Fuchs that February, and at first there appeared to be clear sailing—the writer said he would soon have something.
At the same time, Fuchs expressed a concern about the handling of the copyright when the interview was printed, and over the next several weeks it became increasingly difficult to allay or understand his fears. Although I'd assured him the rights would revert immediately to him upon publication, he remained concerned, asking for a signed warranty from George Plimpton. When this wasn't quickly sent—owing to office delays rather than any disinclination—the writer grew vehement, and then abusive. Reluctantly I let go of the idea of seeing through an interview with Fuchs, whose work remains too much of a secret to this day.
A year or so after Fuch's death in 1995, having been informed that the writer's papers were in Special Collections at the Mugar Memorial Library at Boston University, I phoned Dr. Howard Gotlieb, the Special Collections librarian, to ask if, by any chance, there was an interview circa 1989 among the papers. Indeed there was. Fuchs had constructed an interview that, while based on my questions, departs from them in unexpected and telling ways. It amounts to a late work by the distinguished, if unexpectedly irascible, "magician," as John Updike once pronounced him.
You have been identified by Irving Howe, Alfred Kazin, and others as one of three Jewish novelists of the 1930s whose work has survived a half century now, the other two being Henry Roth and Nathanael West. Would you comment on the literary climate of the thirties?
Survived, rediscovered—a peculiar occurrence. A man sits in a room writing novels. Nothing happens. The books don't sell—four hundred apiece, the last one a few more. There are scattered reviews. Then thirty years later, suddenly, the books are brought out, again and again, acclaimed. A small-sized mystery. Of course, I'm talking only of my own books. Call It Sleep and Nathanael West's work attracted attention from the start and were well known all along.
Did you read Call It Sleep when it came out?
With pleasure and pangs of jealousy.

Nathaniel West went to Hollywood and wrote B movies and worked on his last novel, The Day of the Locust, which in its final sentence seems to indicate that the protagonist has succumbed to the furies around him in Hollywood and gone mad. Henry Roth moved to rural Maine and hasn't, as of now, published another novel. You gave up a literary career for several decades to write movies. Is there a common thread in all this?
No, I don't think so. West kept working on his own material up to the end, while he was doing the pictures at Republic. Roth had his own reasons. I liked it in Hollywood and stayed on. I found the life most agreeable. Mordecai Richler went out of his way, in a book review, to say I bragged about the money I made in Hollywood. Actually, I never made a great deal of money in the movies. Sixty thousand dollars a year was about the best I could do, if Richler doesn't mind my saying so. In fact, I went nearly broke, had to sell my house, and then an amazing thing happened, another one of those mysteries. A benefactor, a character out of a Molnár play—I can't say his name, he once asked me never to bother him or intrude—stepped forward. He's been watching out for us over the past number of years and we're quite comfortable. I guess I mention all this to get a rise out of Richler. Hollywood strikes a nerve in some people. Read More »
May 1, 2014 | by Dan Piepenbring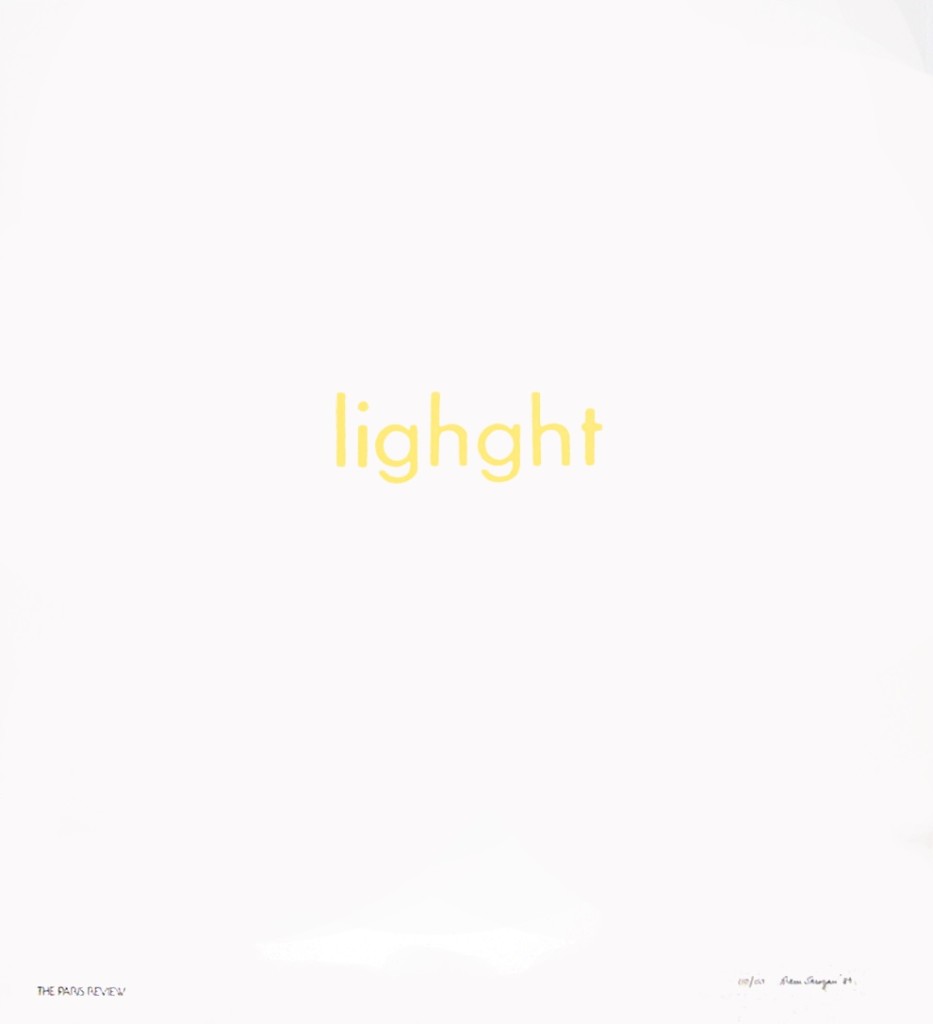 Since 1964, The Paris Review has commissioned a series of prints and posters by major contemporary artists. Contributing artists have included Andy Warhol, Robert Rauschenberg, Helen Frankenthaler, Louise Bourgeois, Ed Ruscha, and William Bailey. Each print is published in an edition of sixty to two hundred, most of them signed and numbered by the artist. All have been made especially and exclusively for The Paris Review.
Among these is Aram Saroyan's lighght print, available in our online store. The print is a record of Saroyan's most famous poem—one among many collected in his newly reissued Complete Minimal Poems. Soon after the poem's first publication in 1965, "lighght" engendered a surprisingly long-lived controversy, in which The Paris Review's own George Plimpton played no small part. As Ian Daly's terrific piece at poetry.org explains,
Plimpton decided to include it in the second volume of The American Literary Anthology, which he was editing for the National Endowment for the Arts … Plimpton picked Saroyan's "lighght," so the NEA cut him a check for $750—the same as all the other authors in the anthology. The Review kept $250, and Saroyan kept the rest. All of which seems reasonable enough—that is, unless you judge the poem's worth on a strictly cost-per-word basis—which is exactly what Congress did.

When Representative William Scherle, a Republican from Iowa, caught wind of the one-word poem, he launched a national campaign against the indefensible wastefulness of the newly established NEA, and urged the removal of its chairperson, Nancy Hanks … Mailbags of letters from fuming taxpayers clogged the agency's boxes, most of them variations on a theme: We can't afford to lower taxes but we can pay some beatnik weirdo $500 to write one word…and not even spell it right?!

"If my kid came home from school spelling like that," one congressman said, according to the now-defunct arts and literature quarterly Sabine. "I would have stood him in the corner with a dunce cap."
The NEA lived to cut another check, of course, but more than twenty-five years later, "Ronald Reagan was still making pejorative allusions to 'lighght.' That sparked Saroyan to write about the whole affair for
Mother Jones
in 1981, in a piece he called '
The Most Expensive Word in History
.'"
But our lighght print is not merely a keepsake from an ill-advised chapter in cultural politics. As Daly elegantly writes—and as none of the pols could see through the fog of their vituperation—the poem is also energetic, ineffable, beautiful:
"Lighght" is something you see rather than read. Look at "lighght" as a poem and you might not get it. Look at it as a kind of photograph, and you'll be closer. "The difference between 'lighght' and another type of poem with more words is that it doesn't have a reading process," says Saroyan, who lives in Los Angeles and teaches writing at the University of Southern California … "Even a five-word poem has a beginning, middle, and end. A one-word poem doesn't. You can see it all at once. It's instant."
The Paris Review's lighght print is available here
in an edition of 150.