April 17, 2014 | by Dan Piepenbring
Chaucer scholars have generally settled on April 17, 1387, as the date his pilgrims departed for Canterbury—an historic and storied journey that has been, for more than six centuries, the bane of every student's existence. A brief refresher: in the Canterbury Tales, twenty-nine pilgrims and a narrator vie to out-perorate one another on what must have been a tedious excursion to Saint Thomas Becket's shrine, in, yes, Canterbury. Their prize? A free meal at a hotel restaurant.
Thus ensued several thousand lines of fart jokes, prurient asides, murderous Jews, and dubious blancmange, all of it now forever inscribed in the annals of literature.
The Ellesmere manuscript—written shortly after Chaucer's death, in the early fifteenth century—is considered the definitive version of the Tales. It was produced on vellum, and it features involved, colorful illustrations of many of the pilgrims, pictured above. (None of their more scandalous exploits are depicted, alas, though it may not have been terribly edifying to see a drawing of a man being branded on the buttocks, anyway.)
I had an English teacher who made a shaky but memorable case for the Tales' contemporary relevance. There were, he avowed, new chapters being written every day. All you had to do was book a long trip on a Greyhound bus or board a transcontinental flight, and you'd find strangers from all walks of life foisting their stories upon you, daring you to one-up them, whether you drew them out or not. Indeed, he said, these stories would hinge on the same crimes of passion that Chaucer's pilgrims found so enthralling. It wasn't as if any of us had tired of hearing about adultery. And so we should appreciate Chaucer, he said, because almost nothing in storytelling had changed in the years since the Tales.
Having encountered only this morning a garrulous and kind of lewd fellow-commuter, I can say: my teacher was totally right.
April 23, 2013 | by Kelly McMasters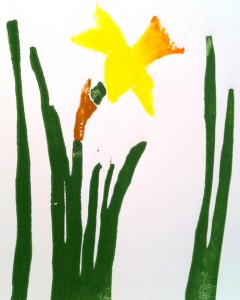 Just before dawn all is blue: I barely see the lark bunting light on a fence post. I stop to admire its white, plump breast, and for a moment the two of us are alone in this world, and at peace.

The bunting flies away: white on black on white on black.
—"Weather Report: April 14," from Dakota, by Kathleen Norris
After working the day at the bookshop a few weeks ago, I pulled into the long driveway of our old 1860s farmhouse about thirty miles outside town. The light had started to go that dusky blue-gray, turning the hills around us the ruddy red of new buds. I stepped out of my car and a wave of noise came at me from the swamp just beyond a stand of trees in front of our house. This time of year, the northern green frogs are so insistent, so loud, like the twang of thousands of rubberbands snapping, snapping, snapping, and the bullfrogs and peepers complete the chorus. It is eerie, and it is wonderful, and up here in northeast Pennsylvania it is our signal that spring has begun.
Our little collective of shops at Maude Alley also burst into spring this month in its own way. Named for one of the owner's grandmothers, the alley reminds me of the kind of meandering wooden walkways you find at the beach, but instead of winding toward the ocean ours ends in a sweet secret garden along with a cheese shop, a gallery, and us. On either side of the alley is Milkweed, our anchor store, whose fanciful window displays alone are worth the trip. Hoping to catapult us far from the long winter, the Maude Alley shops decided to throw a party.
When Mark and I lived in the city, we threw crazy cocktail parties in his painting studio down on Great Jones Street. We'd buy cases of pinot noir and chardonnay from Astor Wines up the block and drag bulging bags full of Camembert, manchego, and pecorino from Murray's Cheese Shop on Bleecker. Filmmakers and hairdressers and painters smoked on the fire escape, uptown collectors mixed with writers from Brooklyn, burlesque dancers bartended and choreographers gulped whisky with bankers, and usually at some point in the party I would lock eyes with Mark across the room and worry the crush of people was about to get out of hand, though it never did. Read More »