June 14, 2011 | by Clancy Martin
Yesterday, Martin was standing in the middle of New Orleans, kicked out of his hotel room, with only a towel to serve as his pants. He had come to the city after seeing the Van Cleef & Arpels exhibit at the Cooper-Hewitt Museum in New York, and was hoping to score a deal using his experience in the jewelry business. To start at the beginning: "Nathaniel Rich's Trousers."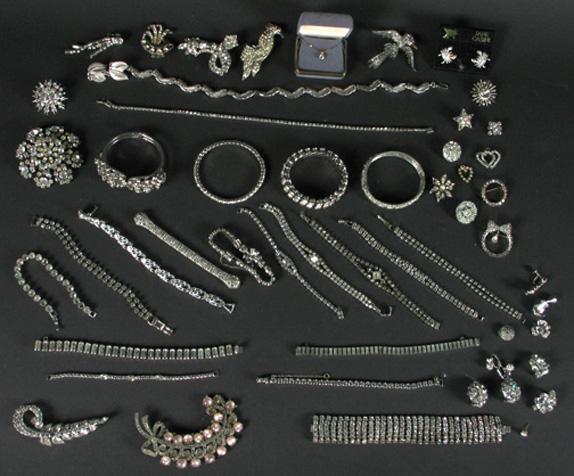 The pearl choker was a counterfeit. It was stamped VCA—the salesman cannily allowed me to be the one to discover that fact, pretending he hadn't noticed it himself—but the hallmark looked like it had been imprinted by a chimpanzee hours before I arrived at the store, and the stringing of the pearls and the faux-silk thread was contemporary mainland China rather than early-twentieth-century France. It was raining now, I had holes in my shoes, and I stepped through the puddles of the broken-brick-and-cobblestone streets of the French Quarter with increasing despair. What absurd burst of enthusiasm had inspired this doomed pot-of-gold mission? New Orleans as Emerald City?
Maybe my soon-to-be ex-wife was right: perhaps I am bipolar and incapable of recognizing when I am in the midst of a manic episode. How were Nathaniel Rich's trousers helping me now? The cuffs were muddy and wet, and I worried about how and where I would have them laundered, as I slumped from jewelry store to jewelry store in apathetic parody of my former life, stepping on my heels with my toes in the air. The bars were beginning to be populated, and the cold beers and tall, colorful potions and modest glasses of cheap red glistened their eyes at me like snakes or flying monkeys (I don't drink, but sometimes still want to).
There was another door, on Royal. Jack Sutton Antique and Jewelry. I knew the name; he was on my list. He has an eye and a reputation, so if it's in his case it's the real thing. We had done business years before on three half-carat pink diamonds I had bought in a Fort Worth oil heiress's estate. Just in case Jack was in, I ran my fingers back through my hair and slapped both my cheeks. The rain was coming down harder. I thought about stopping by a hotel lobby to "borrow" an umbrella before entering (to lend a modicum of dignity to my appearance) but then thought, Screw it. Inside it smelled like lemon oil, that fine, calming, luxurious smell of freshly rubbed antiques from my childhood (my stepfather owned Calgary's largest antique store, Collector's, and as a kid I polished thousands of Scottish and French antiques).
December 2, 2010 | by Dan Chiasson
This is the second installment of Chiasson's culture diary. Click here to read part 1.
DAY TWO
7:00 A.M. I have an e-mail from a guy I met last summer in Paris, Thierry Corcelle, of the incomparable Librarie Thierry Corcelle, 29 rue de Conde, right near the Luxembourg Garden. Thierry has a new catalogue; I look through it on my computer, marveling at it. I could look at these things forever. What Thierry sells, essentially, are Joseph Cornell boxes that don't know they are Joseph Cornell boxes: old magic sets, wooden puzzles, dioramas, circus sets, toy soldiers, tarot cards ... I went into serious debt this summer buying the following items:



12:00 P.M. I am actively scouting ideas for poems. I browse around in Robert Pogue Harrison's great study of burial, The Dominion of the Dead. Harrison talks about a Jules Verne novel (From the Earth to the Moon) in which, one of the astronaut's dogs dies on a space mission. They try to expel her into space, but she just bobs alongside them. I have to read that story.
8:00 P.M. My wife and I fire up the Dick Cavett. First we watch his interview with Orson Welles. Welles is playful, clearly adores Cavett, funny, totally of this planet in a way that I miss, later, when we watch the interview with Alfred Hitchcock, who is all "Hitchcock" persona. The Welles interview sets the agenda for the rest of the week. Tomorrow night I have to travel, but Thursday, it will be a double bill of The Lady from Shanghai and The Stranger.