Posts Tagged 'announcements'
February 24, 2015 | by Dan Piepenbring
Many congratulations to our Southern editor, John Jeremiah Sullivan, for winning one of this year's Windham Campbell Prizes. The citation calls him "an essayist of astonishing range … empathetic and bracingly intelligent." We heartily agree.
If you haven't heard of the Windham Campbell Prizes, that's because this is only the third year they've been awarded— Donald Windham and Sandy M. Campbell founded the prize in 2013 "to call attention to literary achievement and provide writers with the opportunity to focus on their work independent of financial concerns." Awards are given for fiction, nonfiction, and drama, to those who write in English anywhere in the world.
"I couldn't overstate how encouraging this award is," Sullivan wrote, "or how practically helpful. In this phase of my writing life I feel a desperate need to stay down over the research I'm doing, not look up, and the prize makes that possible."
Also among this year's nine winners is Geoff Dyer, whose work has previously appeared in The Paris Review. We applaud him, too, along with all of this year's prizewinners. In September, they'll gather at Yale for a festival celebrating their work.
May 14, 2012 | by The Paris Review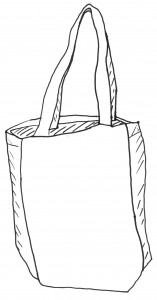 It has long been a source of chagrin here at 62 White (and to George Plimpton before us) that our love for the Strand went unrequited.
Though we whiled away our weekends amid their shelves, brought them armloads of books every time we moved, and always spent more than we got paid, the Strand refused to carry so much as a single copy of The Paris Review. We tried not to take it personally. We were told it was company policy—no magazines. But in our heart of hearts, we always knew we should be together. Was there no room for us in their sixteen miles of books?
Now, all is right with the world. Starting June 13, not only can you purchase America's finest literary quarterly at 13th and Broadway, but you can join us there, too, for a series of events featuring the best fiction, poetry, movies, actors, and readers we can find. It'll be smart. It'll be fun. And it will come with an original tote bag celebrating these two venerable New York institutions.
And who, you ask, will design this tote? You, dear reader! That's right: we're holding a contest. Get in touch with your inner graphic designer/illustrator. Here are the details:
Design a bag that features the original Paris Review logo (as seen on our homepage and the cover of the magazine) and remember to leave room for the Strand oval, too. You can incorporate old cover art, go all-graphic, or dream up something completely your own. (For further inspiration, check out our current totes!) We want to know what the Review means to you!
Submission deadline: Monday, June 5, 2012
Artwork maximum size: 10 inches by 10 inches
EPS vector format preferred; 300 dpi acceptable
Send your entry to contests@theparisreview.org
The winning design will be revealed at the inaugural event at the Strand on June 13, 2012.

Top entries will be posted on The Paris Review Daily. The grand-prize winner will receive a Strand shopping spree and a year subscription to The Paris Review. Plus, of course, your tote.