Posts Tagged 'Anne Sexton'
October 17, 2012 | by Marina Warner
Fairy tales were reviled in the first stirrings of post-war liberation movements as part and parcel of the propaganda that kept women down. The American poet Anne Sexton, in a caustic sequence of poems called Transformations, scathingly evokes the corpselike helplessness of Sleeping Beauty and Snow White, and scorns, with fine irony, the Cinderella dream of bourgeois marriage and living happily ever after: boredom, torment, incest, death to the soul followed. Literary and social theorists joined in the battle against the Disney vision of female virtue (and desirability); Cinderella became a darker villain than her sisters, and for Sandra Gilbert and Susan Gubar, in their landmark study The Madwoman in the Attic, the evil stepmother in "Snow White" at least possesses mobility, will, and power—for which she is loathed and condemned. In the late sixties and early seventies, it wasn't enough to rebel, and young writers and artists were dreaming of reshaping the world in the image of their desires. Simone de Beauvoir and Betty Friedan had done the work of analysis and exposure, but action—creative energy—was as necessary to build on the demolition site of the traditional values and definitions of gender.
May 29, 2012 | by Sadie Stein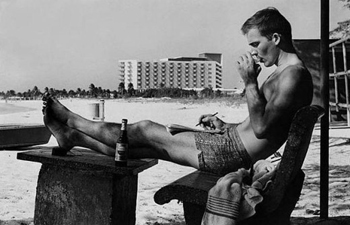 Summer has kicked off, and hereabouts, at least, it actually feels like it. In honor of the stifling humidity, enjoy Flavorwire's gallery of writers in bathing suits. Chances are you've seen Sylvia Plath and Papa in their respective kits, but Eugene O'Neill? Anne Sexton? Special points to Hunter S. Thompson, left, for actually working (and drinking) in swimwear.