December 10, 2012 | by Dorian Rolston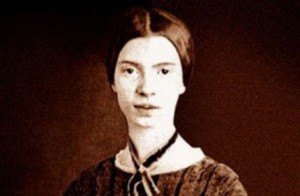 The online forum was empty when I submitted the essay, my first for Modern & Contemporary American Poetry. It was still early—a few minutes before the midnight deadline, when peer evaluators would then be assigned to post feedback. But not knowing who that peer might be, nor how their public evaluation might portray my work, made the quiet unsettling. Expectant, I awaited review on this naked, vertiginous stage.
Our assignment for ModPo, as this Coursera version is known, was to close read the Emily Dickinson poem identified by its paradoxical opening line, "I taste a liquor never brewed." In the poem, ubiquitous intoxicants are absorbed literally out of the moisture in the air. They unhinge our debauched speaker, who before long is "Reeling—thro endless summer days—From inns of Molten Blue." Describing the scene I invoked soaked clouds crossing the summer sky, befitting a heavy drunken stupor. "Clouded," I titled the essay.