Posts Tagged 'American Civil War'
April 4, 2014 | by Mimi Pond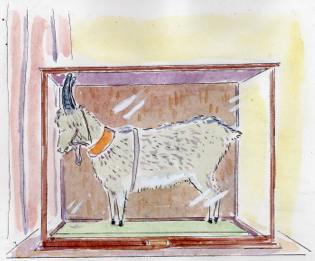 Saturday, February 28
We fly from our home in Los Angeles to York, Pennsylvania, so that my husband, the artist Wayne White, can begin building an art installation commissioned by York College of Pennsylvania. It will be constructed inside an historic former Fraternal Order of Eagles Hall in downtown York, now an organization called Marketview Arts. All of York is crazy historic, dating back to 1740! Temporary capital of the Continental Congress! Articles of Confederation drafted and adopted here! Home of the Underground Railroad! WHAT? This is a mind-blower for a history-loving girl from Southern California, where they tear down anything older than 1967 and replace it with a building made out of Popsicle sticks and Elmer's Glue. Read More »
February 15, 2011 | by Elizabeth Hoover
In Ardency, the poet Kevin Young chronicles the experiences of fifty-three Africans who mutinied aboard the Amistad slave ship in 1839. After killing two of their Spanish captors, they sailed up the coast of the United States, only to be intercepted by a naval brig and thrown in a Connecticut jail. Their case eventually made it to the Supreme Court, which affirmed the earlier court's decision: because the international slave trade had been abolished, the men and women aboard the Amistad were not legally slaves and thus had been illegally captured. They were entitled to use force to secure their freedom. The Amistad mutiny would be one of the many events that gave the abolitionist movement traction leading up to the Civil War. In this book, Young conjures their voices in letters, poems, and songs, documenting their violent capture and eventual return to Africa in 1842. Young has tangled with the complexities of American history in his six previous collections, including For the Confederate Dead and Dear Darkness. He recently edited the anthology The Art of Losing: Poems of Grief and Healing and is finishing The Gray Album, a nonfiction work about music and history, forthcoming from Graywolf next year.
You spent twenty years working on Ardency. What originally drew you to the story of the Amistad?
I stumbled on letters the Amistad prisoners wrote from jail. I was struck by their poignancy and how the prisoners spoke in this new language of English. But I was struck by what the letters didn't say, what was permitted of them to say, and, then, what they did mange to say because of or despite those limits.
What was so great about working on this book was that no one knew about it. I didn't know if I was ever going to do anything with it, but I knew that there was this story I wanted to learn more about. Also, I knew that I wanted to write in the voice of Cinque, who led the rebellion, but wasn't ready to write in his voice yet.
There are many strangely beautiful phrases in the letters—"be my dear benefactory," "Cold catch us all the time," "I am your perfect stranger"—that have the urgency of someone really trying to master the language.
Master is an interesting verb. They had masters who bought them in Cuba and forged documents giving them new identities saying they were born in Cuba. Though he international slave trade was illegal, you could still purchase slaves who were born into slavery. So they were learning English to become free, but there is a sense in the letters that they are trying to free themselves from English.