Posts Tagged 'Ambrose Bierce'
December 13, 2012 | by Colin Fleming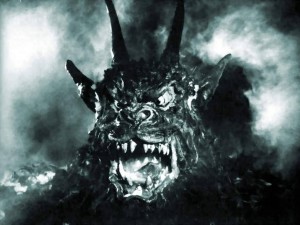 Up until the early spring of this year, I considered myself an absolute Christmas fiend. Not in the Grinch sense of breaking out the Boris Karloff accent and green grease paint and plotting how I might swipe presents, but rather trying to figure out, as early as possible, how best to immerse myself in a holiday that I loved like no other, in a typically over-the-top fashion. You know that person you read about, who bops his head along to Christmas songs on the oldies station—yes, Brenda Lee, you rock around that tree indeed!—the day after Thanksgiving, who insists on seeing Rudolph "live," every year, because it's just more real on TV than Blu-ray? I was that guy. Before I had occasion to become a different guy. And before I decided to spend this holiday season with M. R. James.
March 28, 2012 | by Lincoln Michel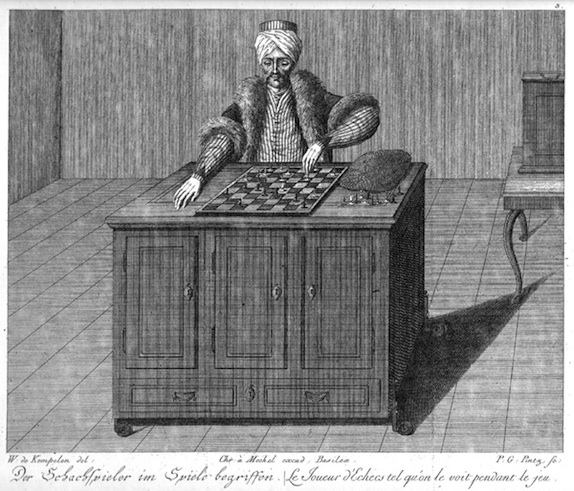 In September 2006, the World Chess Championship devolved into a debate about bathrooms. One champion, Veselin Topalov, accused the other, Vladimir Kramnik, of excessive urination, hinting that Kramnik was retreating to the unmonitored bathroom to receive smuggled computer assistance. (Kramnik responded that he merely drank a lot of water.) Kramnik was eventually declared the victor, but to many, the episode displayed the sad state that the grand game had fallen into since Garry Kasparov lost to IBM's Deep Blue in 1997. Back then, Kasparov was bitter about the loss and accused IBM of cheating—with human intervention, saying that he saw uncanny human intelligence in the computer's moves.
Even that incident, though, was not the first time the line between man and machine had been blurred in the game. The first machine to awe humanity with its chess mastery was the eighteenth-century life-size automaton known as the Turk. Constructed in 1770 by Wolfgang von Kempelen to impress Empress Maria Theresa, the Turk appeared as a wooden Oriental sorcerer seated at a large cabinet. Before playing commenced, Kempelen would open the cabinet doors to reveal the clockwork machinery that controlled the Turk. The audience could see that there was nothing else inside. After the doors were closed and a challenger seated, the Turk would come eerily to life. He would move the pieces robotically, but shake his head or tap his hand in human displays of annoyance or pride. He also nearly always won.
The Turk became a spectacular attraction, thrilling, baffling, and terrifying viewers across Europe and America for decades. Read More »