Posts Tagged 'Aleksandr Blok'
December 12, 2012 | by Sadie Stein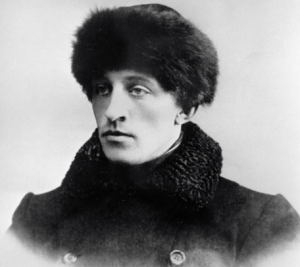 ... we bring you an excerpt from Russian Symbolist poet Aleksandr Blok's 1918 poem The Twelve. "Today I am a genius," he wrote after completing the twelve-canto chronicle of the October Revolution. The opening lines are amongst the most famous in Russian literature.
Black night.
White snow.
The wind, the wind!
It will not let you go.
The wind, the wind!
Through God's whole world it blows

The wind is weaving
The white snow.
Brother ice peeps from below
Stumbling and tumbling
Folk slip and fall.

January 19, 2012 | by Elaine Blair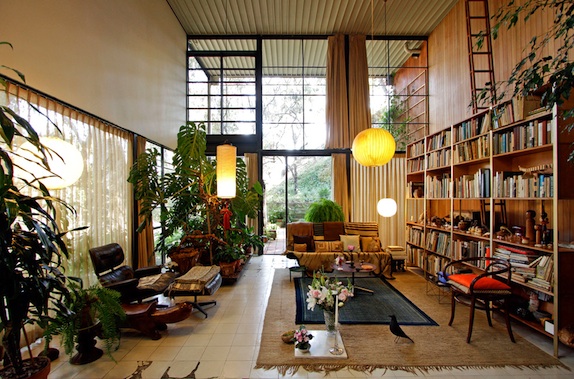 If you've been a tourist in Russia you've probably visited a "house museum," one of those great, daft halls of pedantry that strive to preserve the former homes of Russian writers and other luminaries exactly as the luftmenschen kept them. Fidelity to the writer's own domestic arrangement is broken only by the addition of the writer's death mask, typically hanging on a wall. So, for instance, the poet Aleksandr Blok's white ceramic statuette of a dachshund still sits on his desk next to his inkwell. The docents who give tours of Blok's St. Petersburg apartment emphasize his interest in the latest furniture designs and interior arrangements of the 1910s. But one has to work to see the novelty: Blok's apartment, like Bloomsbury rooms, no longer strikes viewers as "modern" at first glance.
Not so with the Charles and Ray Eames living room, a full-scale steel-and-glass replica of which is now on view at the Los Angeles County Museum of Art as a part of their giant survey of California design, "California Design 1930–1965: Living in a Modern Way." ("California Modern" is itself part of the multi-institution California art exhibition called "Pacific Standard Time"). The museum has reassembled the contents of the designer couple's living room precisely as they kept it circa 1958, down to the arrangement of sculptures and shells and little vases of fresh flowers and piles of woolen blankets and magazines. Though its contents are old, the room somehow looks new: mid-century modern is still what we think of as modern. Read More »