May 12, 2014 | by Alexander Aciman
We're recapping the Inferno. Read along! This week: The price you pay for turning stuff into gold.
Having read the incandescent poetry of cantos 26-28, it's difficult not to feel as though Dante really phoned it in with canto 29. In fact, canto 28 is so hard to shake that Dante dwells on it for the first thirty or so lines of canto 29, weeping at the thought of the mangled sinners he'd met. Virgil rebukes him for his compassion, as always, and emphasizes the importance of moving on: he tells Dante they're running out of time to complete their quest, which must have been Dante's way of upping the stakes. Will our heroes beat the clock?
Virgil also points out that this is the first time Dante has wept for sinners in such a way. Dante has an explanation—he isn't weeping for all the sinners, but for his cousin, Geri del Bello, who was among those undergoing tortured back in canto 28. Geri was killed but never avenged, and for this Dante weeps. Virgil, ever quick with the quips, suggests that Dante doesn't really care all that much about his cousin—instead of talking to him when he had the chance, Dante instead decided to chat with Bertran de Born.
As Dante and Virgil proceed over the last bridge of this circle, Dante describes the foul smell of the following ditch—rotting limbs, putrid skin, and all the stench of dead patients in plague-stricken hospitals. It is a powerful image, especially since one can imagine that by now, Dante is very familiar with the smell of rotting body parts. What Dante smells are the falsifiers, the corpse-like shades under punishment for forgery. Dante will speak with the alchemists, who are afflicted with a sort of super-leprosy.Read More »
September 9, 2013 | by Adam Leith Gollner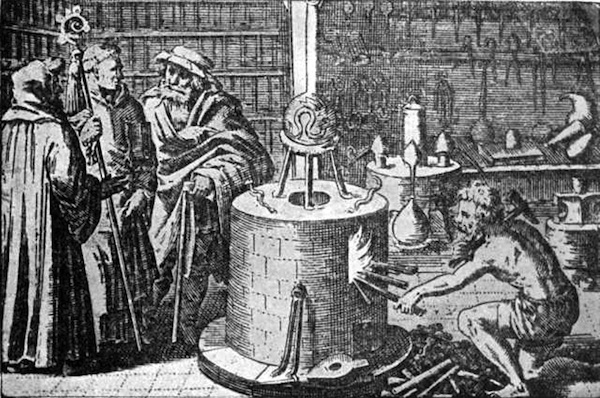 What have we not done to live forever? Adam Leith Gollner's research into the endless ways we've tried to avoid the unavoidable is out now as The Book of Immortality: The Science, Belief, and Magic Behind Living Forever. Every Monday for the next three weeks, this chronological crash course will examine how humankind has striven for, grappled with, and dreamed about immortality in different eras throughout history.
During the Middle Ages, every alchemist worth his saltpeter tried to find the philosopher's stone, the water stone of the wise, the miraculous stone that is no stone. It was the means to transmute base metals into gold and—more importantly—concoct elixirs of immortality.
The word is Arabic in origin: al-kimia, al-khymia, or al-kīmyā. It's how chemistry begins. Science as we now conceive it did not exist in the medieval period. (The word scientist only became commonplace in the nineteenth century, after Cambridge University historian William Whewell coined the term in 1833.) Instead, there was natural magic and philosophy—and alchemy, the experimental attempt to combine different elements and uncover the factual mysteries of nature. Read More »