May 23, 2013 | by Dorian Rolston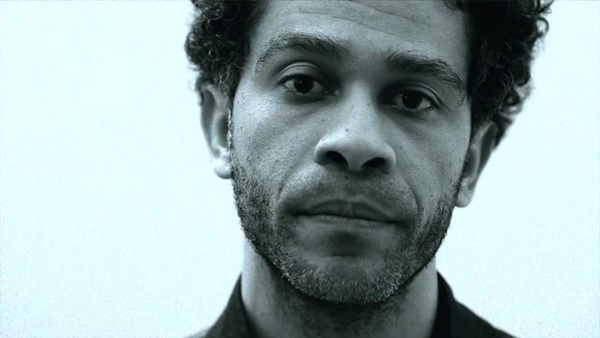 It's early on Sunday morning, about five-thirty, and Dana Crum has awoken without meaning to. His apartment lights have been left on. Craning his neck from the couch, he observes that he never found the bedroom.  Sloughing off the rude awakening, he decides to get an early start on the puzzle of his poetry. He bears down to write. He uncaps his fine-pointed roller ball pens—blue, black, red, and green—and confronts his notebook.
And he sounds rather startled, some hours later, by my phone call. "Hello," he groans, after the third ring. I ask how he's doing. "All right," he says, then interjects, "Actually, can I call you back?" Trying once again to get himself going, he puts on a pot of cinnamon stick tea (Lipton, for a change from Bigelow), while I begin to wonder whether he's nursing another hangover (Scotch, single malt). As I look over his autobiographical poetry, the canon seems to divulge as much. "In my unlit apartment on Valentine's Day, me on a soiled sofa above rotten piping, drinking / Macallan from the bottle. My cat's tail curls into a question mark," he writes in "Portraits of a Former Lover," a zuihitsu of imagistic confessions published recently in Blackbird. When we resume talking, though, he explains that not even a single line had taken shape and so he had simply given up and gone back to sleep. "I really wish I could start a poem, and write the first line first, the second line second, and so on," he insists. "But that doesn't happen."
What does happen, as he described it, is something like a young boy emptying his collection of jigsaw puzzles into a heaping jumble then kneeling down to rummage through the pieces. Each piece, for Crum, is a "fragment" of poetry. Often, he has no sense of where a fragment belongs within a poem, no inking even of where within his entire body of work. Unbidden, fragments infuse his days with poetic potential: falling from a giant puzzle box in the sky as he walks to work, or turning up under a school paper he happens to be grading, or springing from the jostle and bounce of a subway ride. His craft is not so much writing a poem as it is cobbling together myriad lines and images and phrases—"a mélange," he calls it—into the provocative, confessional free verse for which he is becoming known. "I'm receiving a piece of my vision of life," he says. "These bursts of inspiration are me expressing myself all the time, something my imagination has been trying to get out all along." Somewhere deep in the recesses of his mind, the lights are always burning. Read More »
February 28, 2012 | by Jonathan Gharraie
I met Helen Simpson for a genial pub lunch near Dartmouth Park in North London on the day she received the American edition of In-Flight Entertainment: Stories. She was evidently quite pleased by the book's spare but elegant design, which looks through an airplane window onto a locket of cerulean sky. I'm tempted to draw comparisons to her stories, many of which peek at other people's blitheness, or cruelty, or dreams of escape. But nothing in Simpson's fiction is quite as peaceful as that glimpse of blue. She is perhaps best known for the characterization of contemporary motherhood in her collections, but many of the stories in In-Flight Entertainment confront the prospect of climate change.
Your collections are never quite themed, but they do feel very painstakingly designed. Was that true for In-Flight Entertainment?
In-Flight Entertainment is my little climate-change suite, I suppose. But there are fifteen stories in it, and only five are about climate change. My only rule is to write about what's interesting to me at the time. It's a great subject, but it's very hard to dramatize or to make particular, and not to hector, not to moralize.
There are plenty of experts in these stories. There's Jeremy in the title story as well as amateur researchers like Angelika in "The Tipping Point" and G in "Diary of an Interesting Year." They don't seem to benefit from their knowledge.
Well, it alienates people from them. That's the trouble. Did you ever watch that episode of The Simpsons shortly after Al Gore's An Inconvenient Truth came out?  It is spoofed as An Irritating Truth. It is an irritating truth and no one wants to hear someone sounding off about it, and particularly not when they're about to go on holiday.
Stories are good for uncomfortable things, for uncomfortable subjects. They're not generally relaxing. Novels are more relaxing. You just give up to the novel, you go into its bath, you submit to it. You don't with a story. You're more alert as a reader, and more critical. If it doesn't grab you by the second sentence, it's done. Whereas with a novel, people will give it a couple of chapters before they abandon it. Read More »