September 28, 2016 | by Ann Beattie
No, not dying. Not just yet.* But already, still at home, the feeling of jet lag begins. Time seems omnipresent, yet too brief. Birthday presents are opened early. I stare at the bag from the pharmacy. Is this any time to try the antipsychotic? (Prescribed for sleep. All doctors hate Ambien, and respond to hearing the name of the drug the way bushmen respond to the scent of wild boar, unless they're otherwise occupied by appearing on a reality show.) Required reading has been abandoned; already playing hooky by substituting reading one writer for another. I believe myself to be the only writer now reading John O'Hara instead of Peter Taylor, which says nothing about either man, much about me, and has nothing to do with the antipsychotic, as I have yet to work up the courage to ingest a pill.
Fondly, I observe the hummingbirds in the garden: "Greenie" has been feinting during its swirl upward, plotting its faux midair crash into "Blackie" (we aren't very original in our nicknaming). They sink rapidly, like floaters in opposite eyes, then rise again, in a complex spiral. We've been stumped about what to call the almost equally dark hummingbird who has two white spots on its back wings, if you call them wings. This one, we merely call, "the one with white." (Move over, Wilkie Collins.) Read More »
November 28, 2011 | by Avi Steinberg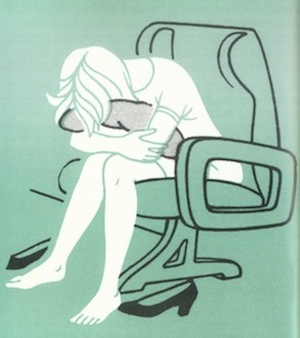 Because I do not want to die in the brawny arms of an industrial-kitchen-fixtures salesman from Tulsa—at least, not one I've only just met—I don't much care for airline travel. During a recent trip from Salt Lake City, my Boeing 757 began to lurch and heave and make dreadful noises. At times we seemed to be in free fall. I caught the look on our veteran flight attendant's face as she rushed by: it was genuine fear. During one particularly terrifying plunge, I felt the brawny fingers of that kitchen-fixtures salesman inching toward me, tugging at my sleeve. I needed an escape. I reached into the seat pocket in front of me.
At 33,000 feet, and falling, we are presented with roughly the same options as on earth. First, we get the in-flight magazine's glossy parade of petit bourgeois distraction. But, face it, when your plane is going down, what good is a recipe for a quick and easy hake with hazelnuts and capers? For those seeking something more directly relevant, there's the Sartre-esque barf bag. But for those of us who occupy that metaphysical middle ground between the in-flight magazine and the barf bag, there's the airline safety card.