Posts Tagged 'Adrian Tomine'
October 29, 2012 | by Peter Terzian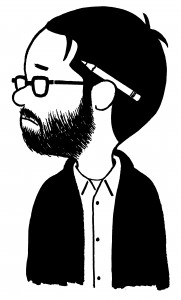 In "Missed Connection," Adrian Tomine's now-famous New Yorker cover illustration, a boy and a girl spot each other through the windows of subway cars headed in opposite directions. They're both reading the same book—potentially perfect for each other, they're destined not to meet. The image sums up what makes city life frustrating but also thrilling: the possibility of romance around every corner, the sense of isolation in a crowd, the higher-than-usual incidence of bookish hotties. Tomine began contributing crisp, colorful artwork to the magazine in 1999 and has continued to produce covers that often gently send up urban reading habits. The newly released New York Drawings collects the entirety of Tomine's New Yorker work, along with his illustrations for other periodicals, book jackets, and album covers.
But commercial illustration is only one part of Tomine's career. The thirty-eight-year-old artist began publishing comics as a teenager. His stories of young misfits and malcontents, serialized in his semiregular comic book, Optic Nerve, have been collected in book form as Sleepwalk and Other Stories, Summer Blonde, and a full-length graphic novel, Shortcomings. His short, funny, loose autobiographical comic strips pop up throughout his books; last year's Scenes from an Impending Marriage narrated Tomine's wedding preparations in the style of classic newspaper funnies.
A West Coast native, Tomine moved to Brooklyn eight years ago. We met one evening at a pastry shop near his home in Park Slope.
It seems obvious that by now your New Yorker work has given you more visibility than your comics. How do you feel about that?
It definitely reaches a broader audience. At this point there are a lot of people who know me through The New Yorker and have no idea about the comics I do. I guess that shouldn't be surprising to me. I've separated the two jobs in my mind quite a bit, and that's been useful. I'm sometimes a cartoonist and there's an audience for that, and I'm sometimes an illustrator and there's an audience for that.
But there must be some relationship between the two.
June 14, 2011 | by Joe Ollmann
DAY ONE
I live in a neighborhood in Montréal called Parc X. Now, I confess this sounds a lot more ghetto-y and gangsta than it actually is. It's really a hard-working, largely immigrant neighborhood that is in imminent danger of being overrun by white hipsters.
We do literally go through a hole in a fence from our slum to take our son to his school in the neighboring wealthy Anglophone area, but the fact that he wears a fancy school uniform does slightly tarnish our street cred, I admit.

Montréal's ostensibly a French-speaking city, but the French language is rarely heard in my mostly Greek and Pakistani neighborhood. I am neither French, Greek, nor Pakistani and speak none of their languages with proficiency, so I'm perpetually an outcast, though I am, by nature, a bit of a Zelig, attempting and failing to ever fit in. Always the pale, white, cultureless bridesmaid.
It was Easter recently, which this year not only coincided with Greek Easter, or "Greece-ster," as I sensitively and cleverly have named it, but also Passover. In the French-speaking world of Quebec, Passover is noted on French calendars as "Paque Juive," or Jewish Easter (!), which my Jewish homeys find offensive based on the fact that Passover preceded Easter and therefore should not be relegated to Easter-spin-off status. Oh people, why can't we all just get along?