February 21, 2012 | by Perrin Drumm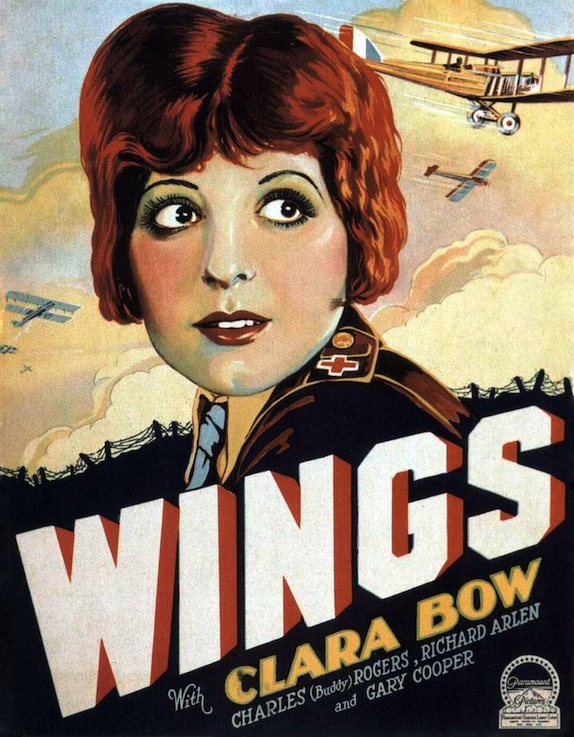 On February 26, approximately forty million people will tune into ABC to watch the eighty-fourth Academy Awards. It was around this time eighty-three years ago that the first winners of the Academy Award of Merit were notified, via telegraph, even though it would be another three months before the ceremony itself took place—an event that drew an audience of only 270 people, each of whom paid five dollars for a private dinner at the Roosevelt Hotel. While guests dined on filet of sole sauté au buerre and half-broiled chicken on toast, master of ceremonies Douglas Fairbanks dispensed with the awards in a mere fifteen minutes. There were no speeches and no cameras. It was the only untelevised Academy Awards in history.
There aren't too many people who are still under the impression that the Oscars shine an unbiased eye on all the films of the year. But, in fact, it was never intended to be an impartial awards ceremony. According to MGM studio head Louis B. Mayer, who created the awards, "the best way to handle [filmmakers] was to hang medals all over them ... If I got them cups and awards they'd kill themselves to produce what I wanted. That's why the Academy Award was created." Predictable though they may now be, even the most jaded of cinephiles can't help but get at least a little excited when the nominations are announced each year.
Only this year one not-so-predictable contender was announced: the unlikely audience favorite The Artist swept up ten Oscar nominations, including Best Motion Picture. If it wins it will be only the second silent film in history to win in the category. The other was Wings, a war film by William A. Wellman, which won Best Picture at the very first Academy Awards.
This fact alone is a point of contention. In 1929 the Best Picture award was split into two separate categories, Unique and Artistic Production, which went to F. W. Murnau's Sunrise: A Tale of Two Humans, and Outstanding Picture, Production, which went to Wellman's action-packed WWI aviation adventure. The next year, when the award was consolidated into the single Best Motion Picture, it was Wings that went down in the books as the sole winner and, according to many historians, as the last great silent film. Read More »
August 12, 2010 | by Hilton Als
This is the second installment of Als's culture diary. Click here to read part 1.
DAY FOUR
I finished watching There Will Be Blood, hours after I'd returned from visiting an actor friend in Brooklyn. She had a terrible accident while filming an episode of SVU (or SUV—I never know what that show's called). An actor shook her too hard, hurting her neck, so, in order to see my friend, I have to go to her. Despite her pain, my friend was herself, which is to say a real raconteur, one of the last of the best. She punctuates her story-telling with peals of laughter, knowing pauses, and concern. Her presence is part of what makes New York itself, a city filled with jumpy and funny and paranoid people—particularly in the summer. Before I left my friend's house we talked about how scary we both find Hemingway's short story, "The Short Happy Life of Francis Macomber."
Then I got on the subway, which is far from my house; I had to walk past the Brooklyn Hospital to get there, perhaps my least favorite walk in the world, since my mother spent a great deal of time in that hospital when I was a kid, thus instituting my continual anxiety about separation, and my need to be alone so it doesn't happen. No one leaves if no one is invited in.
After I got home, I saw gothic everywhere—such was There Will Be Blood's continuing sway over my imagination. Paul Thomas Anderson in no way obscures the gothic tone in Upton Sinclair's book, Oil!—the source material for his movie. Indeed, I started thinking about one of my favorite American authors, Nathaniel Hawthorne, during Blood's end credits. Is Hawthorne not one of the architects of our American interest in a world peopled, say, white-collared, circle girls screaming twice-told tales from a morally divided heart?
DAY FIVE
Back to the issue of time. One way to measure it's passing is by watching porn. Before you know it, yesterday's semi-twink is today's suited, inscrutable Daddy. While gay porn actors generally make the transition less disfigured by cosmetic surgery than female actors in straight porn, for instance, one sometimes senses what plastic surgery can, at least in part, disguise: exhaustion.
Take Zak Spears for instance. While Spears often took on the "butch," role in early films—the Spears character has always been critical, hard to read, slow to commit to the action but, once engaged, insatiable—one never got the sense that his interest in his partner was diminished by performing scripted sex. Now, in his latest movie, Unsuited, Spears is in full Daddy mode. But behind the gruff instructions to his young "boy," during their table top assignation, one senses Spears' boredom with the entire enterprise. Does time erode our ability to find surprise in most situations? As we grow older, do we spend more and more time sitting in craters of boredom?
This is the kind of exegesis—porn as a metaphor about time connection—that one could express without a qualm to the late and lamented editor, Barbara Epstein. As one of the founders of The New York Review of Books, Barbara's profound gift—among many—was for seeing what her writers could not, and not insisting on a change during the editing process that would derail your thought, but enhanced it. She was a real world saint who was familiar enough with this common place that she knew humor was not a character trait, but a saving grace. And among the graces, she was the most graceful. Read More »