July 2, 2011 | by Sarah Fay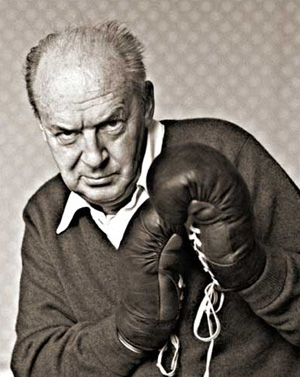 Today, as you may know, is the thirty-fourth anniversary of the Russian-American writer Vladimir Nabokov's death. There won't be parades, but there will be an abundance of talk, mainly on NPR, about his most famous novel Lolita or his penchant for butterflies. On no other day will the words lepidopterist—one who studies a large order of winged insects, including butterflies and moths—and nymphet—which Nabokov forever altered to mean "a sexually attractive or sexually mature young girl"—be used with such frequency. What probably won't be discussed is Nabokov's shrewd and savvy approach to publicity and fame. Perhaps more than any other writer in the twentieth century, he knew how to control his image. As John Updike wrote in Assorted Prose, Nabokov was not only one of the best writers in English, but also "a solid personality" giving a performance "scarcely precedented in American literature." It would be hyperbolic to place Nabokov in the same category as celebrity doyens like Madonna or Lady Gaga, but he could certainly have taught them a thing or two about fame and the art of the interview.
Fame descended on Nabokov after the 1958 publication of Lolita. He was sixty years old at the time and held a lectureship at Cornell. My father took Nabokov's American literature course and says he can't remember anything about it except for the way that Nabokov, wearing a black cape, used to sweep into the lecture hall with Vera, his wife and assistant, in tow. Nabokov would then deliver his lecture from prepared notes to great affect. His dramatic performances in class drew students to him, and, according to Nabokov's most meticulous biographer Brian Boyd, his European literature course was second in enrollment to Pete Seger's folk-song course. As a literature teacher, Nabokov emphasized the importance of reading for detail, assigning students fewer books in order to read them slowly. He quizzed students on the pattern of Madame Bovary's wallpaper and sketched the path that Bloom walks in Ulysses on the blackboard. According to Nabokov, this approach "'irritated or puzzled such students of literature (and their professors) as were accustomed to 'serious' courses replete with 'trends,' and 'schools,' and 'myths,' and 'symbols,' and 'social comment,' and something unspeakably spooky called 'climate of thought.' Actually these 'serious' courses were quite easy ones with the students required to know not the books but about the books."
July 21, 2010 | by Robyn Creswell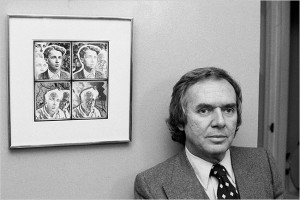 Richard Poirier taught English at Rutgers for some forty years (he died last summer), and he often argued that teaching students how to read, as distinct from teaching them how to be good citizens, or political activists, is the only thing literature professors are really good for, or qualified to do. In an essay he wrote in 1970, he suggested that "literary study can...be made relevant to life not as a mere supplier of images or visions, but as an activity; it can create capacities through exercise with the language of literature that can then be applied to the language of politics and power, the language of daily life."
To place literary study at the crossroads of politics, the everyday, and high art has become standard practice. It is what we call cultural criticism, and everyone does it. But Poirier was one of the first, and also one of the best. I was reminded just how good he was while reading the latest issue of Raritan, the quarterly he founded in 1981 and edited for two decades (it is now edited by the historian Jackson Lears).
The current issue includes essays by regular contributors like Leo Bersani and David Bromwich, as well as poems by Richard Howard and Frederick Seidel. It also includes a remarkable folio of six "Editor's Notes," republished here for the first time, which Poirier wrote during the early eighties. One of the "Notes" is a prospectus describing the new magazine; another is a rebuke to Susan Sontag (for glibly equating communism and fascism); a third, from the summer of '82, is about watching the nightly news during the Israeli bombardment of Beirut; the last pays homage to George Balanchine.
Poirier didn't think of himself as a public intellectual. He thought of himself as a reader, and supposed that expertise in reading that gave him the credentials for commenting on everything else. He held that a serious interest in academic theory—deconstructionism, Marxism, discourse analysis—should go with an equally serious interest in popular culture and contemporary life. Raritan always resisted the pull toward specialization. It became a general interest quarterly where you could find Edward Said interviewing Daniel Barenboim, Anne Hollander writing on fashion, or poems by Gerard Malanga. No one was allowed to use footnotes. Read More »