Posts Tagged 'A Visit From the Goon Squad'
July 14, 2011 | by Lorin Stein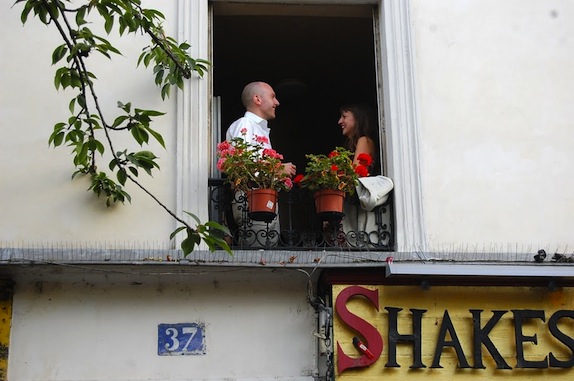 Dear Thessaly,
You're probably still in bed, or finishing up a short story, but here in Paris it's four o'clock; across the street from my hotel the bells of Nôtre Dame are playing "Three Blind Mice"; and I owe you an update from the Ville-Lumière.
It's my first time here in years, since the indoor smoking ban in fact, but no sooner did I get through customs than I started craving a cigarette. I think it must be the strain of reading airport signs in French. This craving intensified in the taxi. By the time I got through breakfast at a tourist café on Saint Germain—jambon beurre, three cafés crèmes—it was time for a Gauloise Blonde and a nap.
My hosts at Shakespeare & Co. kindly booked me a room around the corner from the famous shop. Mine is the best room the Hotel Esmeralda has to offer, and one of the highest, smelling faintly but not unpleasantly of blow-dryer and dead mouse. It is five flights up. Reaching the top of the stairs, I dropped my bag, conked out, and dreamed of Robert Silvers: he had climbed up after me to inquire about an essay he had written on the early history of The Paris Review—an essay slated to run in our last issue, but it hadn't.
This anxiety dream is easy to explain. You see, on the flight over I'd been reading a doctoral dissertation, Enterprise in the Service of Art: A Critical History of The Paris Review, 1953–1973, in preparation for my talk at the bookstore: "The Paris Review: Past, Present, Future." I had taken plenty of notes, but nothing that added up to a talk.
July 12, 2011 | by Thessaly La Force
Did you know that Jennifer Egan was robbed by a motorcyclist in Spain at the age of twenty-two? That when she was little, she wanted to be a doctor, but then she tried to be an archeologist? That she's written exactly one celebrity profile and it's of Calvin Klein? And that she received a gratuitous amount of CK1, which she wore until it ran out? That her first apartment in New York City was on West 69th Street but she has also lived on East 7th Street (between First Avenue and Avenue A) and West 28th Street (between 6th and 7th Avenues), but now she lives in Fort Greene? That she wrote her first (and unpublished) novel while studying abroad at Cambridge? That she was a reader for The Paris Review? That she writes her first drafts by longhand? And her second?
I have Jennifer Egan fever. I caught it at the beginning of last year, when I read "Ask Me if I Care," a short story of hers that The New Yorker had excerpted from her then-forthcoming novel, A Visit from the Goon Squad. I read the other two stories The New Yorker had published on my iPhone while getting a pedicure. It's a banal admission only worth recalling because I remember sitting in the salon's lounge long after the polish had dried and it was time to leave—I had to read it all, right then and there. After that, I read every single story she published, every novel she had written, every interview I could get my hands on. (I knew the obsession was bad when I started picking through the Amazon reviews.)
Egan's prose is stunning, funny, sexy—cool. Her stories reference Black Flag and the Dead Kennedys. She can write about an attractive kleptomaniac on a first date, a topic that seems dangerously cliché, and yet, by the end of opening paragraph, you're hooked. She's transparent about her writing process; honest about what she borrows and what she invents. It's not that she "beat" Jonathan Franzen, though I see why some feel the need to pit the two authors against one another. And it's not that she's perfect—I have yet to encounter someone who liked The Keep—but maybe that's also part of the appeal.