Posts Tagged 'A. R. Ammons'
August 8, 2011 | by David Orr
"Locality," said Frost, "gives art." It's an aphorism that directs us toward, well, directions. But when we're talking about space, we're also usually talking about time—which means it's important to think about when, not just where, an artist finds the locality that's going to be doing the giving.
These questions have particular relevance to the Summer 1996 issue of The Paris Review because the subject of "The Art of Poetry" interview is A. R. Ammons. Ammons has been slightly out of fashion since his death in 2001—fame, as Emily Dickinson observed, is fickle food—but he was a bracingly intelligent writer, and his relationship to the idea of place is intriguing. In part, it's intriguing because he can't seem to determine whether he is actually Southern after having lived for three decades in the north. Consider:
INTERVIEWER: You've spent more time in the north [at Cornell].
AMMONS: Much more. I lived the first twenty-four years in the South. I've been in Ithaca more than thirty years.
INTERVIEWER: Are you conscious of being a Southerner here?
AMMONS: I don't hear my own voice, but of course everyone else does, and I'm sure they're all conscious of the fact that I'm Southern, but I am mostly not conscious of it. In the first years, I was tremendously nostalgic, constantly longing for the South: for one's life, for one's origin, for one's kindred. Now I feel more at home here than I would in the South. But I don't feel at home—I'll never feel at home—anywhere.
On one hand, this is the kind of thing poets like to say because it recalls the expatriate glamour of the early twentieth century ("I have beaten out my exile," announced Pound, in the most self-satisfied formulation of this maneuver). On the other hand, Ammons wasn't just a poet. Read More »
July 1, 2011 | by Lorin Stein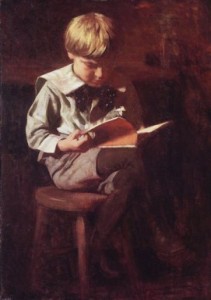 Hi Mr. Stein. I went to a talk you gave many months ago at McNally Jackson about The Paris Review. You said something that has stayed in my mind, especially now that President Obama has said that we will be withdrawing from Afghanistan. You said that you believe what you're doing with The Paris Review (and literature in general) was just as important as the coverage a newspaper like The New York Times gives to the wars in the Middle East. Can you explain? I see in some ways how you are making a point, but I can't help but think that literature has to weigh a little bit lower on the scale of important things, especially against war.
Sincerely,
Thom
Yikes! I hope I didn't say that—I certainly don't think it! What I can imagine saying is that, in one person's tiny life, it is possible for art to loom larger than the news of the day. I can also imagine saying that this strikes me as a good thing. There are people the country needs to hear from regarding military strategy, and people it doesn't. I, for instance, am someone with whom there's not much point discussing troop levels.
Your question makes me think of Roberto Bolaño's comic novel The Third Reich, all about a writer who sacrifices everything—love, friends, home, job—for a board game ... a board game in which he restrategizes the entire Second World War so the Nazis will win. Writers are like that. They are, among other things, people for whom the unimportant outweighs the important. What's more (at least in Bolaño's fiction), they are people you wouldn't want to see involved in foreign policy, because they'd screw it up, or play—as often as not—for the wrong side.
What do you think of M.F.A. programs? A. R. Ammons says in his Paris Review interview that "it sometimes happens that these professional M.F.A. people are also poets, but it rarely happens." Do you agree with Ammons, or do you think these places can play a meaningful role in nurturing poets and other writers? Yours, E. M.
I think A. R. Ammons is using the word poet in a special way. Poets often do. He means there are not many great poets in writing programs. It's true: but then, there are not many great poets anywhere. That doesn't mean you can't learn something about poetry in a writing program. And most of them are nothing if not nurturing. For me the question is whether nurturing—whether being part of a caring community—makes for better work or for poems that people will actually want to read out there in the cold, hard world. For others, being part of that community is a powerful incentive to write. For these people, I think an M.F.A. makes all kinds of sense.
Have a question for The Paris Review? E-mail us.