July 3, 2013 | by Kelly McMasters
Wear the old coat and buy the new book. —Austin Phelps
When I tell people I run a bookshop, they often respond with envy or admiration. But first, a funny look flashes across their face—sometimes fleeting, sometimes not. A look that says, Poor girl. A look that says, She must be daft.
I am not daft. It's no secret that the bookstore industry is in trouble, and, six months into this experiment, I still don't know if this dream is viable. Aside from the question of whether people will buy books or will simply use the shop to browse and then order from Amazon when they get home—or, as Michele Figlate's fantastic Center For Fiction piece flays, order from their iPhone on the spot using our free Wi-Fi—there are the more prosaic reasons I may not be cut out to run a small business, like quarterly taxes and mopping the floor. But people's love of books is not something I lose much sleep over.
I'm a romantic, but I'm also a pragmatist. I did not open Moody Road Studios and assume it would pay my home mortgage or student loan, or even for my dark chocolate habit. Like many writers, I survive by keeping a dozen lines in the water. So I write. And edit. And review. And copyedit. And teach. I love each of these things and feel fortunate to be able to do work that I love and get paid for it. And I knew that in order to open this shop, I would need to continue to do all of these things in order to make it work. I won't necessarily make money, but I can't afford to lose any money either. Read More »
March 6, 2012 | by The Paris Review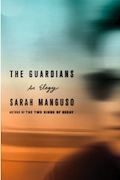 This week, The Paris Review takes over New York!
Tonight, editor Lorin Stein will be at McNally Jackson with Sarah Manguso to discuss her new book, The Guardians: An Elegy. David Shields rhapsodized that The Guardians "is very pure and elemental, and I wanted nothing coming between me and the page." Don't let anything stand in your way, either; stoke your excitement for the discussion by reading our excerpt of the book here!
Then, on Friday, Geoff Dyer and John Jeremiah Sullivan, both contributors to our two-hundredth issue, discuss their books Zona and Pulphead at 192 Books. A man whom Zadie Smith dubbed a "national treasure" and our Southern editor in one room? We can't imagine anything better.
We hope to see you there!
Sarah Manguso in Conversation with Lorin Stein
March 6, 7 P.M.
Location: McNally Jackson
52 Prince Street
New York, NY 10012
Geoff Dyer in Conversation with John Jeremiah Sullivan
March 9, 7 P.M.
Location: 192 Books
192 10th Avenue
New York, NY 10011
RSVP only. To reserve your spot, call 212-255-4022.