February 19, 2014 | by Jessica Gross
Trains as writers' garrets.
I am in a little sleeper cabin on a train to Chicago. Framing the window are two plush seats; between them is a small table that you can slide up and out. Its top is a chessboard. Next to one of the chairs is a seat whose top flips up to reveal a toilet, and above that is a "Folding Sink"—something like a Murphy bed with a spigot. There are little cups, little towels, a tiny bar of soap. A sliding door pulls closed and locks with a latch; you can draw the curtains, as I have done, over the two windows pointing out to the corridor. The room is 3'6" by 6'8". It is efficient and quaint. I am ensconced.
I'm only here for the journey. Soon after I get to Chicago, I'll board a train and come right back to New York: thirty-nine hours in transit—forty-four, with delays. And I'm here to write: I owe this trip to Alexander Chee, who said in his PEN Ten interview that his favorite place to work was on the train. "I wish Amtrak had residencies for writers," he said. I did, too, so I tweeted as much, as did a number of other writers; Amtrak got involved and ended up offering me a writers' residency "test run." (Disclaimer disclaimed: the trip was free.)
So here I am. Read More »
January 9, 2014 | by Dan Piepenbring
Exactly 365 days ago, the poet Patricia Lockwood asked: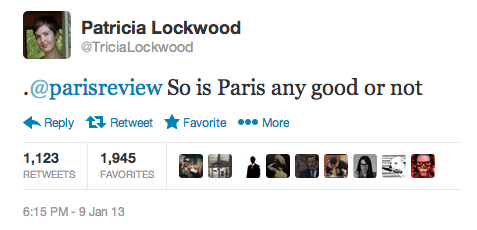 Rightfully, her query went on to enjoy more than a thousand retweets, landing on several best-of-2013 lists, and earning plaudits from all over—because it's a really good question. We were confounded. Despite our name and the dozens of interviews we've conducted in Paris, we had never really thought to assess the city's quality.
We put our top people on it. For the next 365 days, our agents combed the twenty arrondissements, an army of flaneurs with clipboards in hand, golf pencils tucked behind their ears. They took water samples, soil samples, croissant samples. Equipped with measuring tapes, Geiger counters, and elegant cravats, they scrutinized the city's every boulevard and metro station. They assessed the turbidity of the Seine; they carbon dated paintings, supped on the finest Bordeaux, and enjoyed the haute fare of Le Chateaubriand, Septime, and Benoit. They sent up weather balloons and infiltrated the fashion houses. They noted the Royale with Cheese. From Gentilly to Saint-Ouen, no stone was left unturned, no bichon frise unnuzzled. Then, having conducted such exhaustive research, they crunched the numbers, feeding the data into a series of world-class supercomputers with processing speeds in excess of thirty-three quadrillion floating-point operations per second. At last, they furnished a verdict:
It's pretty good!
Case closed.