December 23, 2010 | by Nicole Rudick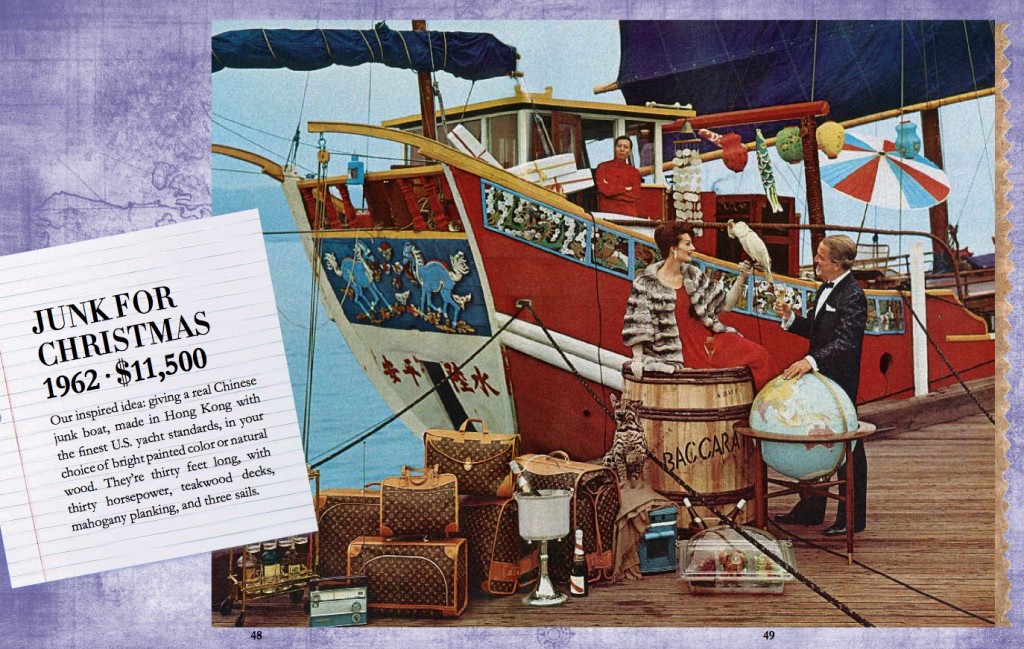 In 1939, Neiman Marcus published their first Christmas book, a catalogue of extravagant, humorous, astonishing, and often jewel-encrusted gifts. Over the Top: 50 Years of Fantasy Gifts from the Neiman Marcus Christmas Book, recently published by Assouline, celebrates the Chinese junks, minisubs, urban windmills, bags of diamonds, sailplanes, animal-shaped desks, Warhol portraits, and Jack Nicklaus custom backyard golf courses that only the top 1 percent could comfortably afford.
The first cover, in 1951, featured artwork by Saul Steinberg, with subsequent covers created by a host of notables, such as Robert Indiana, Ludwig Bemelmans, Al Hirschfeld, Victor Vassarely, Chuck Jones, and Ben Shahn. His & Hers gifts became a frequent staple of outrageous indulgence beginning in 1960 with His & Hers Beechcraft Airplanes ($176,000). Ensuing examples rivaled for the title of most ostentatious: His & Hers Camels (1967; $4,125), His & Hers Hot Air Balloons (1964; $6,850 each), His & Hers Authentic Mummy Cases (1971; $16,000), His & Hers Robots (2003; $400,000), and His & Hers Name Your Own Jewels (1985; $2,000,000).
December 23, 2010 | by Thessaly La Force
On a recent winter afternoon, I sat down for tea with Linda Fargo and David Hoey of Bergdorf Goodman, on the top floor of the store, in the restaurant overlooking southern Central Park. Fargo, who has an immaculate silver bob, is clad in a black Balenciaga dress, capped with a furry Mongolian gilet by Vera Wang, her throat studded with a necklace by a designer named Grazia Bozza, whom she discovered while vacationing in Capri. Hoey is wearing a Band of Outsiders suit—"a journeyman's vest," he explains. "It's a symbol of a real working man who rolls up his sleeves."
And roll up his sleeves he must, even at Fifth Avenue's most refined department store. Hoey and Fargo are the masterminds behind Bergdorf's window displays, and they had invited me to come talk with them about their work and their new book, a $550 lavender-sheathed tome ("Our signature color," explains Fargo) published by Assouline. Titled Windows of Bergdorf Goodman, the book catalogs more than ten years of their work, interspersed with remarks and witty one-liners from some of Bergdorf's closets friends (Bette Midler, Vogue editor Hamish Bowles, and street photographer Bill Cunningham, to name a few).