August 14, 2013 | by Tobias Carroll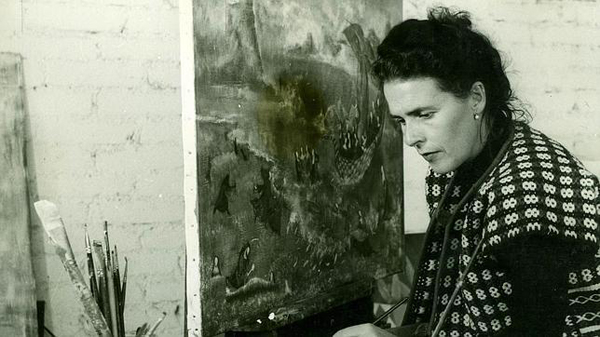 A young woman from an affluent family finds herself dreading her formal entrance into high society. An affable hyena offers to take her place; the young woman acquiesces, but the hyena demands a face to wear in place of her own. A maid enters, and the hyena murders her. The debutante doesn't object; she merely asks that the killing be done quickly. Later, the debutante learns of what transpired at dinner: the hyena's masquerade persisted until she took umbrage to the cake being served. She stood, tore off her false face, and escaped through a window.
All of this takes place in Leonora Carrington's short story "The Debutante." The motifs it contains recur throughout her fiction: an occasionally amoral protagonist; animals that speak and attract no alarm while doing so; and a satirical jab at certain institutions—here, the wealthy. Carrington is best known for her surrealist paintings and sculptures, but her idiosyncratic literary legacy is equally deserving of attention.
Carrington's best-known work of prose, the novel The Hearing Trumpet, begins on a note of gentle absurdity and gradually becomes truly bizarre. Marian Leatherby, the novel's protagonist, is an elderly woman living with her son and daughter-in-law. Using the titular device, she learns that they plan to place her in a home; after she arrives there, her narration gives way to a low-grade conspiracy narrative. Marian discovers evidence of mysterious gatherings, disappearances, and hints of the supernatural. Ultimately, all this leads to a total reordering of the terrestrial order: a world "transformed by the snow and ice." Marian anticipates the day when "the planet is peopled with cats, werewolves, bees, and goats. We all fervently hope that this will be an improvement on humanity …" Read More »
November 12, 2012 | by Tobias Carroll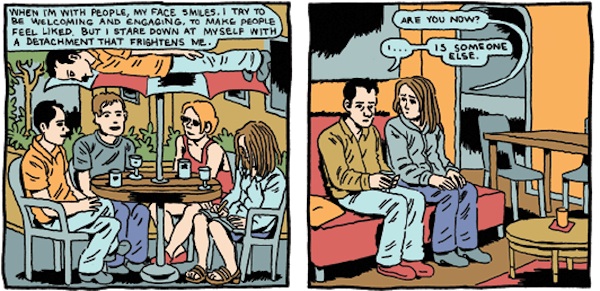 Whether delving into memorable personal stories or exemplifying a sort of nimble surrealism, Gabrielle Bell's comics are harder to classify than one might think. Reading her work chronologically, one can find her range expanding from sharp day-to-day observations to forays into the surreal and magic realist. The title story of the collection Cecil and Jordan in New York follows a young woman who moves to the city and searches for an apartment and a purpose. It's fairly kitchen sink in its realism, right up until the point where the protagonist matter-of-factly decides to become a chair. It's a dose of deadpan absurdism that opens up the storytelling possibilities, and keeps the reader on their toes.
The Voyeurs is Bell's latest book, covering several years in her life, and taking her from promoting a film in Tokyo to finding a space for yoga in her Brooklyn apartment to San Diego for Comic-Con. Its introduction comes courtesy of Aaron Cometbus, whose long-running zine suggests certain parallels to Bell's deftly autobiographical work. We met at a bar near Bell's apartment in Greenpoint, Brooklyn—a neighborhood that has provided the setting for much of her work.
Lucky begins as a kind of slice-of-life documentation of your life. By the end of the first volume, though, it's become less overtly realistic and more expressionistic. When did you make that leap?
It was towards the end of writing Lucky, when I got to the point about Francophilia, when I talked about talking with Gerard Depardieu. That must have been the first time that I did that. Or maybe it was when I had this fantasy about being an art assistant, and the artist taking all my ideas. Read More »