February 27, 2013 | by Tallis Eng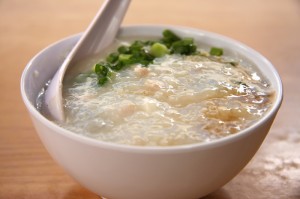 To the hundreds of thousands in Asia who start each morning with a bowl of congee—and who, every evening, set their rice cooker to a low boil so that more congee is ready by the next day—it would probably seem strange that I'm about to spend so much time talking about the dish. It's like someone rambling about corn flakes here. But in Manhattan, congee's hard enough to find north of Houston Street, let alone beyond city limits. My tiny corner of the world feels like it's in the perpetual midst of a congee shortage, and sometimes congee's all I want to eat.
Topped with some mix of scallions, ginger, peanuts, and cilantro, the savory white-rice gruel (or more flatteringly, porridge) is often served in cast iron bowls, sometimes ladled into smaller portions and shared among a group. Read More »
December 30, 2011 | by Tallis Eng
We're out this week, but we're re-posting some of our favorite pieces from 2011 while we're away. We hope you enjoy—and have a happy New Year!
When I was in high school, the few friends I had all lived in other states—the far-flung gains of various summer camps—which meant that I took a lot of long train trips on weekends. On these rides, I developed the habit of sitting next to a very specific kind of stranger: a middle-aged man who looked lonely. The goal was to find someone who'd talk nonstop. That was how I met Tom Malone: on the train from New York to Raleigh. Over the course of the eight-hour journey, he talked about everything from his government job to his pit bull's separation anxiety. He told me he used to braid his ex-wife's hair every night, back when they were married. He explained in detail the reasons Amtrak's business model was bound to fail. He said my name a lot, and with formality: "Here's the thing, Jean," and so on.
I'd never felt safer in my life, sitting next to Tom—his belly like a life raft, and me nodding like a therapist. At one point though, he ruined the spell. He said, "You look exactly like that girl Lennon dated. What's her name."
"Yoko Ono?" I said.
"No, no, not Yoko Ono. Oh, darn it. May. May Pang? You know her? Lost weekend?" I didn't know her. And I wanted us to go back to talking about him.
About five years ago, when I first saw the work of artist Laurel Nakadate, I could have sworn that she had cast Tom in one of her videos, which feature middle-aged, sometimes overweight, mostly white men who had approached her in the street or hit on her in parking lots. In return, she'd invited them to go home with her and act out strange one-on-one scenarios in front of video cameras. We see them shaking her inert body and yelling, "Wake up! Wake up!" or performing an exorcism, or sharing a birthday cake. In a scene from I Want to Be the One to Walk in the Sun (2006), her hirsute costar strips down to his loose-fitting underpants, while she takes off everything but her bra and panties. Then, with her index finger, she traces a clockwise circle in the air over his head. It's a signal for him to spin around, which he does, while she watches, unblinking and tender.  Read More »