July 2, 2011 | by Sarah Fay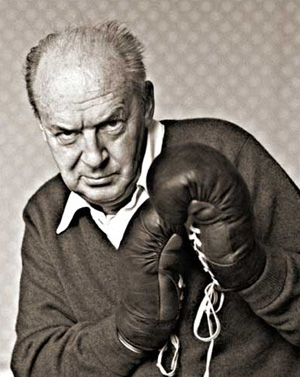 Today, as you may know, is the thirty-fourth anniversary of the Russian-American writer Vladimir Nabokov's death. There won't be parades, but there will be an abundance of talk, mainly on NPR, about his most famous novel Lolita or his penchant for butterflies. On no other day will the words lepidopterist—one who studies a large order of winged insects, including butterflies and moths—and nymphet—which Nabokov forever altered to mean "a sexually attractive or sexually mature young girl"—be used with such frequency. What probably won't be discussed is Nabokov's shrewd and savvy approach to publicity and fame. Perhaps more than any other writer in the twentieth century, he knew how to control his image. As John Updike wrote in Assorted Prose, Nabokov was not only one of the best writers in English, but also "a solid personality" giving a performance "scarcely precedented in American literature." It would be hyperbolic to place Nabokov in the same category as celebrity doyens like Madonna or Lady Gaga, but he could certainly have taught them a thing or two about fame and the art of the interview.
Fame descended on Nabokov after the 1958 publication of Lolita. He was sixty years old at the time and held a lectureship at Cornell. My father took Nabokov's American literature course and says he can't remember anything about it except for the way that Nabokov, wearing a black cape, used to sweep into the lecture hall with Vera, his wife and assistant, in tow. Nabokov would then deliver his lecture from prepared notes to great affect. His dramatic performances in class drew students to him, and, according to Nabokov's most meticulous biographer Brian Boyd, his European literature course was second in enrollment to Pete Seger's folk-song course. As a literature teacher, Nabokov emphasized the importance of reading for detail, assigning students fewer books in order to read them slowly. He quizzed students on the pattern of Madame Bovary's wallpaper and sketched the path that Bloom walks in Ulysses on the blackboard. According to Nabokov, this approach "'irritated or puzzled such students of literature (and their professors) as were accustomed to 'serious' courses replete with 'trends,' and 'schools,' and 'myths,' and 'symbols,' and 'social comment,' and something unspeakably spooky called 'climate of thought.' Actually these 'serious' courses were quite easy ones with the students required to know not the books but about the books."
August 18, 2010 | by Sarah Fay
How effective is it to use literature to seduce men?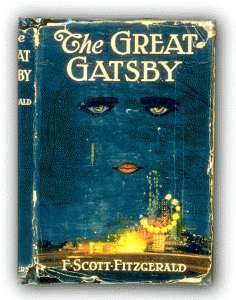 So maybe it wasn't fair to invite him to the lecture I was giving on The Great Gatsby and then use it as a chance to get back at him. After all, I'm a writing teacher and a student of literature—soon to be a professor of literature—and I should have respect for Fitzgerald's 1925 novel, even if it flopped when it came out. Was I really going to use it to show him—in the most petty and humiliating way—how hurt and pissed off I was that he had told me he just wanted to be friends?
Yes, I was. I sat on a bench on the "literary walk" in Iowa City—the UNESCO City of Literature—and made notes so that my lecture had less to do with how anecdotes hinge together within chapters and more to do with what a philandering ass Tom Buchanan is. My plan was to focus on chapter one, specifically the moment when Nick goes over to Tom and Daisy's for dinner and glimpses East Egg for the first time. I'd talk about how each anecdote—each seemingly random incident—sets up what a snake Tom is. After all, he's the one who shuts the windows and brings Daisy and Jordan Baker—whose dresses are "rippling and fluttering" as if they've just taken "a short flight around the house"—to the floor. Tom's a bummer, the kind of man who uses his "gruff" voice and "cruel" body to beat the spirit and life out of women.
He would get the message.
As I got up from the bench, the better part of my thin soul tried to remind me that Gatsby is the kind of book that proves writing is an art, even if Fitzgerald did write it for money. It's a novel I love, one I teach to literature students twice a year.
And really, what had this guy done? I wasn't Daisy and he wasn't Tom Buchanan. He was just a guy who liked to flirt and send lots and lots of text messages laden with sexual innuendos late at night, just one of the many Americans who thought about writing a memoir and wanted to talk to "a real writer" about it. Was I really going to break his newly found literary spirit? Wouldn't I be better off delving into Fitzgerald's rich text for the right reasons?
No, I would not. I walked into the lecture hall packed with aspiring writers wanting to know how novels work. The guy was in the fifth row innocently reading the newspaper. I was the one who had convinced him to read Sinclair Lewis's Main Street and then meet me "for strawberries" to discuss it. I was the one who told him he should read Hemingway and then invited him to go for a walk because I really wanted to know what he thought of Papa.
And he wasn't the first. There was the filmmaker who wanted to read more poetry, the luthier who was curious about novellas. I don't know when I started using literature to seduce men, but my bookish attempts to entice were starting to make me feel desperate and unclean.
I delivered my vengeful Gatsby lecture. But every time I caught the guy's eye, I started to feel a lot like Tom with his $300,000 pearls. Wasn't I just trying to bribe men hungry for something to read? And what would happen when and if the guy reciprocated? How could I deliver book recommendations for an entire marriage? Wouldn't he, eventually, see right through me—just as Daisy had with Tom? And wouldn't I, like Tom, eventually stray to fill my need to entrance someone who had never read a personal essay?
When I finished my lecture, the writers in the audience applauded. They seemed genuinely pleased. They came up and asked lots of questions about structure and scene-versus-summary. The guy stood up and left. I assumed he was irrevocably pissed off. I had achieved my goal. I'd won. Hadn't I?
The writers filed out, and I erased the blackboard. As packed up my things, I felt my phone vibrate. A text from the guy: Great lecture. Meet for lunch?
At the end of the first chapter, Nick sees Gatsby looking out across the Sound. He assumes he's staring at the green light at the edge of Daisy's dock. But how can Nick be sure what Gatsby's really looking at? How can he really know?