May 2, 2013 | by Scott Esposito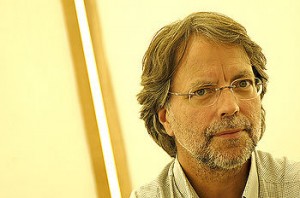 Born in 1955 in Mozambique, to Portuguese immigrants, Mia Couto is widely considered one of the foremost wielders of the Portuguese language. He has written more than twenty books that have been translated into at least as many languages, and those translated into English since 1990 have garnered him a dedicated Anglophone following. Although Couto's fiction varies widely, he frequently deals with Mozambique's civil war, which erupted in 1977, two years after he turned twenty and his nation gained its independence from Portugal. His recurrent use in his work of surreal effects has led many critics to liken his fiction to Latin America's magical realism, a label at which he bristles.
The Tuner of Silences, brought into English by Couto's longtime translator David Brookshaw and published this year by Biblioasis, tells the story of Vítalico, a father who has dragged his children to an abandoned Mozambican nature preserve after the horrifying death of his wife. As Couto explores the nature of Vítalico's regime and its eventual collapse, he delves into frequent obsessions: the construction of identity and the role that memory and language play in that process.
Recently, over e-mail, I discussed Tuner, influences, labels, and the curious provenance of Couto's first name in our e-mail correspondence.
You've mentioned the Angolan writer José Luandino Vieira and the Brazilian João Guimarães Rosa as two influences on your understanding of the Portuguese language. What sorts of cultural influences from within Mozambique have you drawn from?
I usually refer to Luandino and Guimarães Rosa as those who inspired me most, but the most important influences on my writing come from those I can't identify, persons that populated my childhood, my hometown in the Indian ocean, the neighborhood where I was born and where I started to dream about other places and other lives. So, ironically, the main source of inspiration of my writing came from the nonwriting world. Oral culture is still dominant in Mozambique, and the ability to convert reality into stories is still very alive here, even in the urban areas. Storytelling is not exclusively a skill of the griots—the common citizen shares this capacity, telling stories not just with words but with their whole body, using dance and songs and poetry as a unique language. Read More »
June 6, 2011 | by Scott Esposito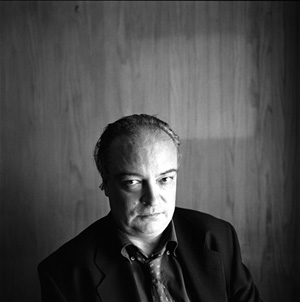 Decorated with numerous awards in his native Spain—including the same Premio Rómulo Gallegos that catapulted his friend Roberto Bolaño to international renown—Enrique Vila-Matas has pioneered one of contemporary literature's most interesting responses to the great Modernist writers. Taking the Modernists as towering giants that will never be equaled, Vila-Matas works to inscribe himself—at times literally—in the margins of their works. His tools are irony, parody, paradox, and futility, and his goal is to mix fact, fiction, and autobiography in order to depict not reality but truth. I asked him about his newly translated novel Never Any End to Paris—his third in English—based on the time he spent in Paris as a young writer attempting (and gloriously failing) to triumph as Hemingway did.
Never Any End to Paris uses your youth in Paris to explore ideas of creativity, influence, and identity. The narrator is a writer whose facts and dates are similar to yours, though—I think—he both is and isn't you. Do you think art requires certain compromises with reality?
Which reality? If you mean the conventional "consumerist reality" that rules the book market and has become the preferred milieu for fiction, this doesn't interest me at all. What really interests me much more than reality is truth. I believe that fiction is the only thing that brings me closer to the truth that reality obscures. There remains to be written a great book, a book that would be the missing chapter in the development of the epic. This chapter would include all of those—from Cervantes through Kafka and Musil—who struggle with a colossal strength against all forms of fakery and pretense. Their struggle has always had an obvious touch of paradox, since those who so struggled were writers that were up to their ears in fiction. They searched for truth through fiction. And out of this stylistic tension have emerged marvelous semblances of the truth, as well as the best pages of modern literature.
This sentiment is very similar to something you say in Paris—"where there is a mirage there is life"—and it reminds me of something I heard you say in an interview: that for the modernists the quest is rectilinear, in contrast to that of Ulysses, whose quest was a circle. In your books, what inspires this search?
In a movie by Wim Wenders, Nicholas Ray says "you can't go home again." Sometimes I think about this phrase, and in order to calm down I imagine myself as a Chinese who came home. "I'm just a Chinese who returned home," wrote Kafka in a letter. Sometimes I wish I were this Chinese, but only sometimes. Because the truth is that what I write frequently brings me to a descent, a fall, a journey within, an excursion to the end of the night, the complete opposite of a return to Ithaca. In short, I long to journey endlessly, always in search of something new. Always alert.