October 18, 2012 | by Nana Asfour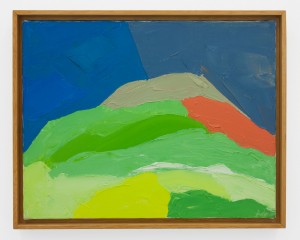 Etel Adnan wasn't there. "It's hard for her to travel these days," Photi told me. Too bad, I thought. She is an iconic Lebanese-American cultural figure and I had hoped to meet her. She was also missing out on the impressive turnout in her honor in New York's Lower East Side.
I had arrived just as the reading had started. The tiny gallery was packed, and I had to squeeze my way through the many bodies. Kaelen Wilson-Goldie, an art critic, was already speaking. I was surprised she was there. She lives in Beirut; I lived there once. So did Etel. Etel and I were both born there, albeit forty-five years apart. And we were both there during the fifteen-year Lebanese Civil War (she, here and there; me, throughout much of its first ten years). Etel wrote the defining novel about that war, in 1978. It's called Sitt Marie Rose and is based on the true story of a woman who was kidnapped and killed by the Christian Phalangists for her support of the Palestinian cause. The Phalangists were one of innumerable militias during the war; they ruled East Beirut, where I, a daughter of two Palestinians, lived. The book was translated into dozens of languages and is regarded as an important contribution to Arab feminism.
Kaelen was holding Etel's new book, Sea and Fog, in her hand. It's a book of prose and poetry that had just been released by Nightboat Books, a small, independent press from Callicoon, New York. It was originally written in English, Etel's first language these days. She penned it in California, where she has been based for decades. (Etel also spends part of the year in Paris.)
At Callicoon Fine Arts, the small, independent gallery where we were standing, Photios Giovanis, the gallery's owner, was showing Etel's paintings. I had never seen Etel's art in person before. Until very recently I didn't even know she was an artist. I only knew her as a writer. As Kaelen spoke, I swiveled left and right, trying to get a glimpse of the works, but there were too many heads in the way. "Whenever I'm hanging out with a group of artists in Lebanon and Etel comes in, everyone is like 'Oh, here's Etel.' She's a very influential figure," Kaelen, said. Kaelen hangs out with Lebanese artists often. She knows the Lebanese art scene very well. She writes about it for publications like Bidoun, Frieze, and Artforum. I don't, in fact, know where Kaelen is from. But she writes great articles about Lebanese art. They almost all have the same theme: Lebanon is an insane, unruly, unstable place—but it has great artists.
January 27, 2011 | by Nana Asfour
Since it opened last September, the Artist's Institute has hosted a number of intriguing short exhibitions, lasting only a day or a weekend. Conceived and run by thirty-five-year-old curator Anthony Huberman, whose résumé includes stints as education director of P. S. 1, curator at Palais de Tokyo, and chief curator at the Contemporary Art Museum St. Louis, the space is quickly becoming a standout in the gallery-dense Lower East Side. Funded by Hunter College, it operates year-round as an affiliate to the school's graduate visual-arts program. Huberman, who conducts a weekly seminar at Hunter related to the Institute, says he wanted to "counter the conveyor-belt problem in art where, before we have time to think about what a show means, it gets swallowed by what's next." Each season, the Institute chooses one artist, the "anchor," around which Huberman and his crew of student "researchers" mount exhibitions and events. The entire fall season was dedicated to the relatively unknown Fluxus artist Robert Filliou, a Frenchman and a friend of George Brecht. He served as inspiration, in the loosest sense, to the shows, and his commands to "unlearn," "disinvent," and "misunderstand" were somewhat adopted as the Institute's dogma.
On a recent Friday night, lured by the promise of a secret performance, a throng of people piled into a small basement on Eldridge Street. By the time I had arrived, the place was densely packed, and in wading through the crowd I noticed that a foamy, doughy material covered the floor. Behind the front desk, an off-white painting by Lutz Bacher read, in bold black lettering, "Have you heard the one about the cow, the Frenchman, and the bottle of Budweiser?" Nearby, a smiling Justin Bieber stared out from a Chinese-like rectangular banner displayed on a coverless ironing board. It was hot and uncomfortable, and I pitied the blush-cheeked baby who was nestled in a BabyBjörn. The performance still hadn't started, but given that the exhibition on view featured artists Liam Gillick, Matt Keegan, and Amy Granat, I was willing to wait, sure that whatever lay ahead would be worthwhile.