December 5, 2014 | by Meg Lemke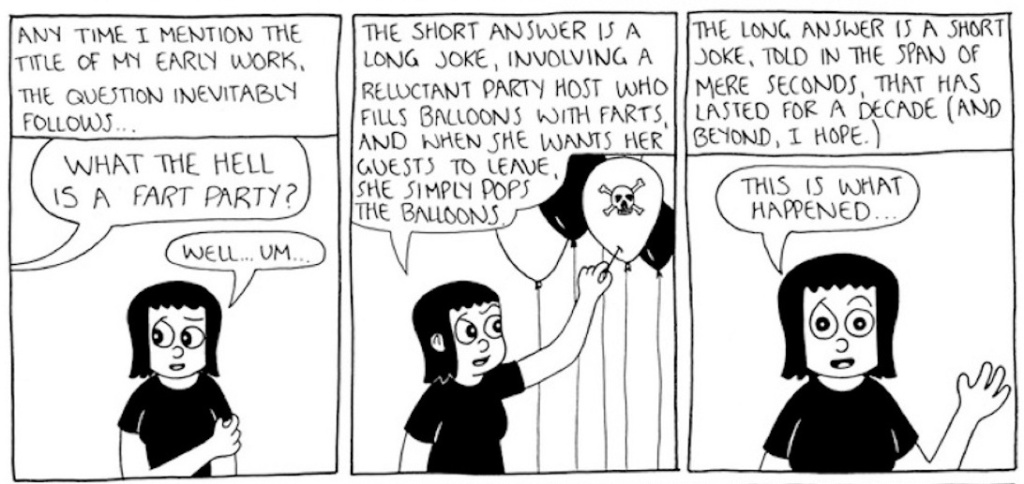 I met Julia Wertz at a slightly rundown family diner she'd recommended deep in Greenpoint, Brooklyn. We drank coffee and ate waffles (hers, covered in bacon) and whole-wheat pancakes (mine, covered in syrup). We'd talked briefly before, but always amid the clamor of comics conventions, where Wertz hustles hard to sell her books but does not relish being on display. Yet she has been putting her life online for nearly a decade. Her new omnibus collection, Museum of Mistakes, brings together three volumes of her autobiographical Web series called Fart Party, written between 2005 and 2010; miscellanea, such as hate mail and guest sketches; and a handful of previously unpublished stories, including one that delves into her past and how children process grief.
As the cartoonist Tom Hart has noted, Wertz "makes self-destruction charming." In comics gloriously full of curses and insider jokes, she catalogs love found and lost, family dysfunction, and a risky cross-country move; she suffers low-wage service jobs and the publishing industry's rush after indie comics darlings. Though Wertz's frustration is often palpable (she occasionally imagines pulling people who annoy her limb from limb), she employs a kind of innocent visual style—her figures are wide-eyed and jaunty—and she's adept at developing a sense of intimacy between the reader and her antisocial persona on the page. In other words, she lets you in, then flips you off.
Wertz has published two graphic memoirs since most of the comics in Museum of Mistakes first appeared: Drinking at the Movies (2010) and The Infinite Wait and Other Stories (2012). The latter is partly concerned with her diagnosis with Lupus and the horrors of navigating the health care system as an uninsured artist. She also recently chronicled her journey to sobriety in an essay for Narratively about comedy, depression, and addiction. A few years ago, she began documenting her urban-exploring exploits, posting haunting photographs of modern ruins on her site Adventure Bible School.
This fall, Wertz made a much-anticipated return to publishing new online comics that, as Gary Panter puts it, "look cute and nice, but they aren't."
You're back to making daily diary comics after a two-year break. Why have you started again—and why did you stop?
I stopped because I was sick of myself. I completed the The Infinite Wait in only six months by drawing autobio comics sixteen hours a day. And before that, I had drawn comics every day, nonstop, for six years.
Eleanor Davis took a year after she finished How to Be Happy where she said, I'm only going to draw what I want to draw, when I want to—not what I need to for work, not what I think I should be working on. I used her example as justification, but I would have stopped anyway. I had planned to take a two-week break, and then, two years later, I was just ready to start again. I had remembered why I liked drawing comics.
June 20, 2014 | by Meg Lemke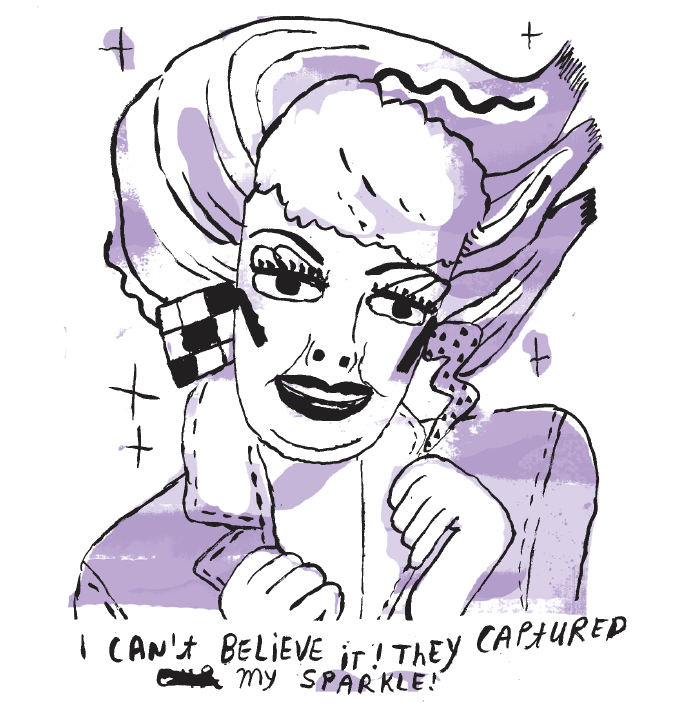 Esther Pearl Watson's comic Unlovable is based on a found diary, from the 1980s, of a teenager Watson has named Tammy Pierce. Tammy lives in a small North Texas town with her parents and younger brother; her life is banal, poignant, and excruciatingly funny. She clings just above the bottom rung of her high school social hierarchy, awkwardly pursues "hot guys," and is regularly exploited by her best friend, Kim.
In Watson's hands, however, this is not a coming-of-age story. Expanding on the details of the diary, she amplifies Tammy's naïveté and absurdity, capturing the grotesqueness of adolescence, how teenagers live in their aspirations and ideals but also in an amplified shame. Watson's lines are exaggerated and energetic; her characters are sweaty and ugly, their imperfections magnified as if being scrutinized in a sixteen-year-old's mirror. You feel, vividly, the humiliation of bodies. Matt Groening has called Unlovable "the great teen comic tragedy of our time."
Watson has been at work on the series for more than a decade, first publishing it as minicomics and on the back page of Bust magazine. The third collected volume of the strip has just been released by Fantagraphics Books—a lime-green, gold-glitter affair that is apt tribute to Tammy's fervent aspiration to be a makeup artist.
I spoke with Watson over Skype, calling her in Los Angeles from my apartment in Brooklyn. Though she's well known in the LA art scene, her voice carries the lilt of her own Texan upbringing.
How is Unlovable different from the original diary?
I started keeping a daily diary when I was thirteen—I hoped there was somebody else out there who felt the need to put down what happened every day. My diaries are impossible to read now because they're so boring. I would write down what I ate, what I wore, trying to make my life sound normal, but I wouldn't write that my dad was building flying saucers in the backyard.
"Tammy"'s diary was different. I found it in a gas-station bathroom in a sink. Somebody had unloaded a bunch of garbage, piles of clothes. I hid it under my shirt and ran out to the car and said to my husband, Mark, Let's get out of here, quick! We read it out loud, driving our beat-up car through the desert. It was less than a hundred pages. "Tammy" talked about friends, this whole cast of characters, and she tried to choose between two guys, which one she would go out with. She would sneak out of her bedroom window to hang out with these delinquent kids who you just knew were using her. And you wanted to yell advice at her—That doesn't mean he likes you, he wants something else! Listen to your mom! Read More »