March 22, 2012 | by Louis Begley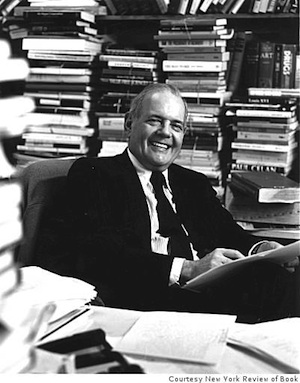 This year our Spring Revel will take place on April 3. In anticipation of the event, the Daily is featuring a series of essays celebrating Robert Silvers, who is being honored this year with The Paris Review's Hadada Prize.
Writers dream. They dream more than most people. Writers dream of sex, of fat advances and big sales. They dream of fame. When they get serious, they dream of being published by the ideal publisher and being edited by the ideal editor. From 1993, when he bought my first novel, Wartime Lies, until October 2002, when he died, shortly after publishing my sixth novel, Schmidt Delivered, Siegfried Unseld, the head of the German publishing house Suhrkamp Verlag, was my ideal publisher. A giant of a man, Siegfried loved books passionately and physically, the way other men can love wine. Siegfried didn't publish books, he published authors. A writer lucky enough to be one of them could feel invulnerable: Siegfried believed in his work, and Siegfried couldn't be wrong.
I have long been afflicted on and off by "regular contributor" envy, wishing disconsolately that in the list of writers whose names appear in The New York Review of Books my name were followed by that tag. It's an absurd pretension, since its fulfillment would have meant upending my life and career. I suffer from it only because the ideal editor of my—and I would guess every writer's—dreams is another giant of a man, Robert B. Silvers, the editor, brain, and heart of the NYRB. When I write a piece for his magazine, of course I have the immeasurable good luck to be edited by him. There is no experience quite like it. Bob knows everything that's worth knowing, a consequence of his unflagging curiosity. I recall sitting next to him years ago at a Council on Foreign Relations meeting. While the energy minister of an OPEC country, the name of which I have forgotten, droned on, I stole a glance at Bob, who could no doubt recall it instantly. He was busily taking notes, in a tiny but precise scrawl. My mind was in neutral, in fact I was struggling against sleep; his was fully engaged. Later he told me that taking quick and accurate notes was a habit he'd formed soon after college, working for the Connecticut politician and diplomat Chester Bowles. It's just one of his useful habits, along with reading everything that deserves his attention and deploying, when the occasion presents itself, a powerful crawl stroke. Read More »