January 27, 2014 | by J. Mae Barizo
It started with an ear. My right ear, to be exact, which the artist Alvin Booth had encased in a pale purple alginate. The material reminded me of blueberry yogurt, and out of the corner of my eye, I watched him scoop the stuff into my ear. We were in Booth's Manhattan studio, where he lives with his wife, Nike Lanning. I was lying on an antique chaise longue, the type one sees in movies featuring French bordellos. Since my left ear was against the upholstery and my right was swathed in gelatinous goo, Booth's words were hardly discernible, and at best he sounded like he was speaking from a distant room. I looked up and saw his mouth moving, a wild tousle of hair rising as he spoke.
For the last twenty years, Booth has been amassing a reservoir of work that revolves, capriciously, around the human body. I say capriciously because Booth doesn't concern himself with the clinical characteristics of form, but rather with the corporeal aspect of the flesh, which is to say, the body erotic. His earlier work in photography has a nostalgic patina; through labor-intensive darkroom techniques, he produced sepia-toned gelatin-silver prints of nudes slathered in oil and gold powder, sometimes bound in latex. The close-ups are at once intimate, almost jarringly so, lending the photos a voyeuristic quality. In his digital works, geometric patterns are superimposed on the bodies of men, women, and sometimes children; his models often posed within a kaleidoscopic mirrored enclosure. The results are highly stylized compositions of natural forms, startling and disturbingly beautiful. Read More »
October 11, 2013 | by J. Mae Barizo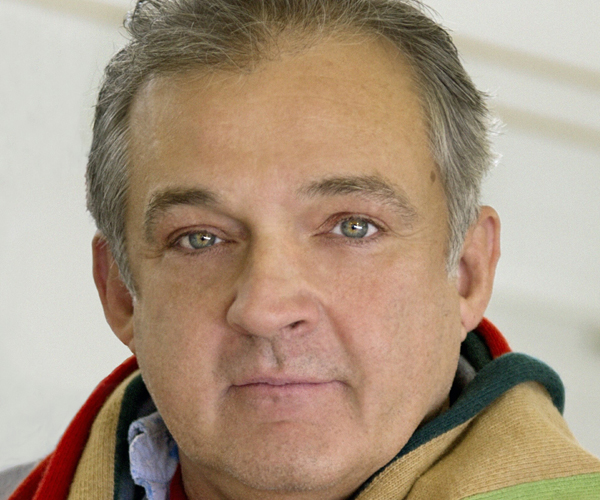 Twenty-five years ago, Mark Morris created L'Allegro, il Penseroso ed il Moderato, a vibrant, enthralling choreography inspired by the music of George Frederic Handel and the poems of John Milton. The New York Times hailed L'Allegro as "a glorious outpouring of dance invention and humanistic imagery," and Joan Acocella stated that it is "widely considered one of the great dance works of the twentieth century." Morris may indeed be the most talked-about modern dance choreographer of his generation, and he has a personality to match his renown. He didn't so much appear for our interview as arrive, bursting into the room in red socks and his trademark scarf, thrown insouciantly over his shoulder.
A natural performer, Morris communicates with enthusiasm and urgency; his hands sliced through the air dramatically as he spoke. Our conversation was punctuated by his impish laugh and his opinions on everything from Lydia Davis, country western music, his figurine collection, and his choice of vodka. Morris is a voracious reader, and during the course of the interview in his New York apartment, he repeatedly pulled books from his shelves.
What's the last great book you read?
You know what's not great but fabulous is this book of love notes between Gertrude Stein and Alice B. Toklas. It's called Baby Precious Always Shines. And I just read this Mary Renault–style gay potboiler called The Song of Achilles, by Madeline Miller. I have to say I was so thrilled that Lydia Davis won the Man Booker International Prize, because I was plugging her book to everyone I met. When I read her Collected Stories, I lost my mind. Those two-sentence stories really fucked me up. I think she's a genius.
Is there any type of literature you steer clear of?
Boringness! Actually no, I have a tolerance for boringness. If it's John Grisham I'm not going to read it. I'm not a big best-seller type, but I did read all of those terrifying, evangelical Christian books, the Left Behind series. Read More »