May 27, 2014 | by Jason Fulford and Leanne Shapton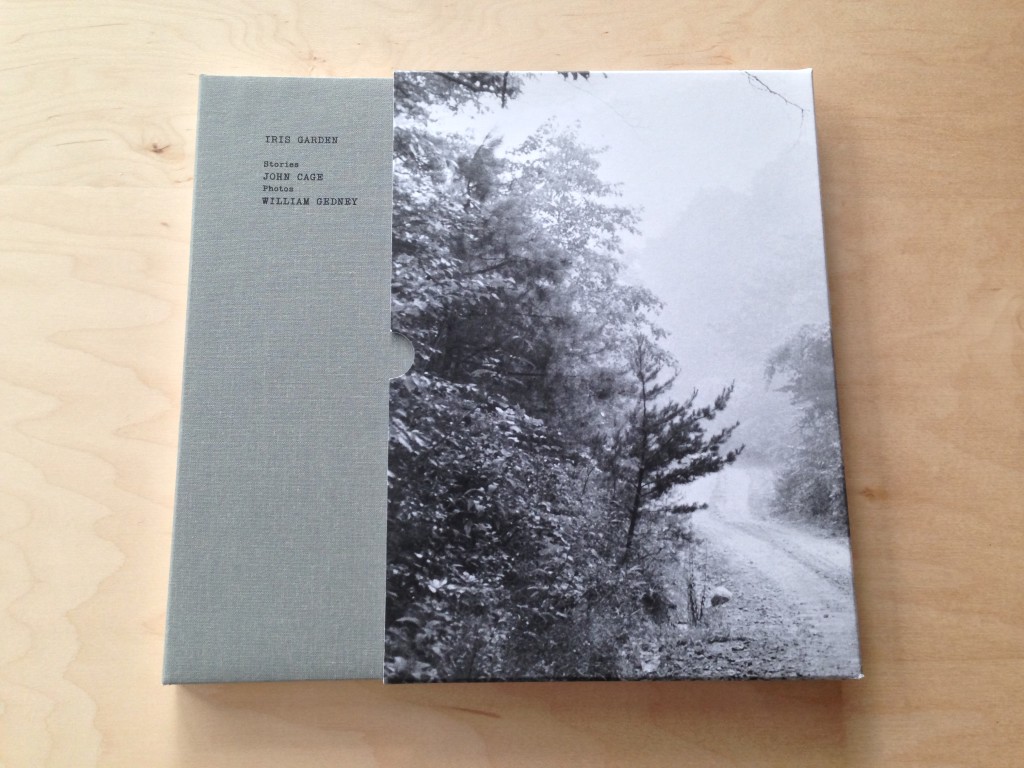 Iris Garden is a 2013 book that combines John Cage's stories with William Gedney's photographs—including several of the composer himself—with an ingenious design evoking Cage's affinity for chance. The stories and photographs were selected by the photographer Alec Soth: twenty-two of the stories are from Cage's series Indeterminacy, conceived in 1959, which featured stories of varying length, each intended to be read aloud over the course of one minute; and forty-four photographs from the William Gedney archive, shot from the 1950s to 1989 and housed at the David M. Rubenstein Rare Book & Manuscript Library at Duke University.
Leanne Shapton and Jason Fulford are the founders of J&L Books.
Leanne Shapton: As soon as I started flipping through this book, I thought, I'm so happy art publishing allows for this. It's a strong book, but it's quiet and subtle, and the design would never make any marketing department happy.
Jason Fulford: The book comes completely apart, literally. Even the endpapers slide out, and the cover can be unfolded—so you can read it in any order. It reminds me of how my Hasselblad disassembles. You can take all of the pieces apart and lay them out on a table. 
LS: I went to the back of the book and read Cage's statement, which helped me "read" the book. He wrote: "My intention in putting these stories together in an unplanned way is to suggest that all things—stories, incidental sounds from the environment and by extension, beings—are related, and this complexity is more evident when it is not oversimplified by an idea of relationship in one person's mind."
JF: Cage stays with you your whole life. You keep coming back to things you loved about him when you were fifteen, and they still relate to you at forty. Actually, I guess I probably learned about him in my twenties. Did I ever tell you a story about Lee Elickson, the American filmmaker who lives in Amsterdam? When he was fourteen or fifteen, he had a chance to meet John Cage. He brought an empty sheet of music and asked Cage to sign it. Cage asked, What are you gonna do with it? So Lee had to think fast and said, After you sign it I'll put it on the forest floor for a week, let nature make its marks, and then have it performed by an orchestra. So Cage was like: Oh, okay. Lee still has the paper, but he hasn't found an orchestra yet to perform it. Read More »
May 7, 2014 | by Jason Fulford and Leanne Shapton
Dark Knees is a 2013 book that accompanies a recent exhibition of Mark Cohen's photographs from the 1970s, though it feels more like a cryptic archive of fragments—tightly cropped, mostly black and white pictures of parts of the body and objects on the ground. Cohen was born in Wilkes-Barre, Pennsylvania, where he's lived and worked for the last seven decades.
Leanne Shapton and Jason Fulford are the founders of J&L Books.
Jason Fulford: I saw Cohen's show at Le Bal. It was funny to see photographs of Pennsylvania in Paris. I'd like to meet him. I saw a video of him shooting on the street in 1982. He's pretty sneaky—getting up really close to somebody and then flashing and moving away fast, no conversation. I think he has a thing for legs and feet.
Leanne Shapton: Girls, legs, midsections, hands.
JF: He cites surrealism as an influence. Body parts. I wouldn't call them portraits. They're more like pictures of clothes on people.
LS: I'd like to see that footage of him. Looking at the work, it does feel he's moving, he sneaking, he's snatching, and it's almost like he's looking out of the corners of his eyes. You don't feel the fixed point with him—you feel it's sidelong, that he doesn't want to engage directly.
JF: I kind of wish I hadn't seen the video. Have you ever seen footage of Daido Moriyama photographing in Tokyo? He uses a point-and-shoot camera and he's very casual about it. His arms are hanging down straight with a camera in one hand. He moves through the city like a shark, slowly and methodically, in and out of stores, in and out of malls and alleyways, up and down escalators and stairwells, and his instincts seem honed to know when to shoot from the hip and when he can stop and compose. But he never gets that close to people. Cohen shoots with a wide-angle lens, so when he's got a close up of a face he's really only a few inches away. Also, it was a different time—people related to cameras differently. In high school, in the eighties, I used to go to the airport and take pictures of people. You can't do that so easily now. Security won't let you, people won't let you. That's the striking thing about the video of Cohen shooting—people hardly react to him. Read More »