August 11, 2014 | by Joe Kloc
Last call at the Blarney Cove.
For a long time, when I came to the end of something—a walk across the bridge, an absence from the city—I would find myself inside the Blarney Cove, a hallway-sized Irish bar on Fourteenth Street between Avenues A and B. The place's gravity came from its total disregard for the passage of time. Its drywall ceiling was never finished. Its walls, wood paneled with patches of green-and-white striped wallpaper, likely hadn't been redone since the seventies. Outside, four or five customers perpetually gathered for a cigarette, tending to the drunken chain-smoker's belief that tomorrow will never arrive. Among this crowd, you could always spot a straggler with a folded dollar between his fingers. "Can I buy a cigarette?" he'd ask the group, waving the bill he couldn't afford to give away. "You can just have one," someone would say. (As the straggler knew, at the Blarney Cove, no one ever took the dollar.) Once, I asked a regular from Harlem what it was about this odd and dreary bar that made him take the trip more than one hundred blocks downtown just for a drink. He paused, as if it had never before occurred to him to consider his commute, and then said, "It feels like home."
There was no more lonesome jukebox in the five boroughs than that of the Blarney Cove. Over the years, I watched all sorts of people haunt the bar's four square feet of danceable floor—a grizzly man in a cowboy hat, a college girl with big hoop earrings—each gyrating in solitary defiance of the sleepy night. Some nights, after the loafers took their positions along the bar, an older woman named Kiko would walk in and ask each of the men to dance with her, one by one; slumped over in thought and beer, they'd always decline. I watched her once as she swayed her hips to Lucinda Williams's "Drunken Angel," alone. Read More »
November 29, 2012 | by Joe Kloc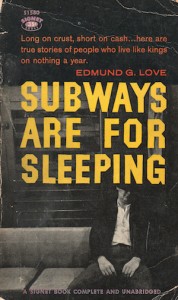 Every now and then I come across someone on the subway who defies easy categorization. I remember, for instance, a man who boarded the 3 train in Brooklyn a few years ago wearing military fatigues and a bandolier packed with little glass bottles of liquids. "Who is man enough to buy my fragrances?" he shouted. (When one rider replied that he wasn't sure, the man responded, "Are you man enough to kill a hooker in Moscow with a crowbar?") More recently, there was a man on the uptown 6 wearing a pair of oversized New Year's glasses—the ones where the 0's serve as eyeholes—who played atonal jazz on his saxophone and asked for no monetary compensation in return. I could keep going, but no doubt anyone who has lived in a city for any length of time has their own mental list of these self-styled subterranean eccentrics, grouped together not so much by any particular characteristic other than the fact that they seem only to exist underground.