February 10, 2016 | by Hannah Tennant-Moore
On the merits of disturbing literature.
In a letter to a reader who was disturbed by his novel The Notebooks of Malte Laurids Brigge, Rainer Maria Rilke wrote, "If [Malte] contains bitter reproaches, these are absolutely not directed against life. On the contrary, they are evidences that, for lack of strength, through distraction and inherited errors we lose completely the countless earthly riches that were intended for us."
Faced with a reader like Rilke's, it can be hard for a writer to defend the need for "bitter reproaches"—to uphold the disturbing above the merely distasteful. After all, some "disturbing" books do nothing more than shock. Charlotte Roche's Wetlands, for instance, is a litany of gross and obscene bodily functions that never adds up to more than grossness and obscenity. But good books disturb for good reasons. To disturb is, among other things, to guard against complacency: to make the reader face the underbelly of dark thoughts and actions, see how circumstances can make even good people go astray if they are not vigilant in honoring the best in themselves and in the outside world. Disturbing passages, when skillful, make a vital inquiry into the subtle causes and effects of human behavior. Read More »
July 26, 2012 | by Hannah Tennant-Moore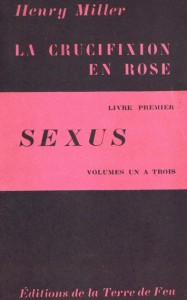 Henry Miller has just been laughed at for rhapsodizing about Walt Whitman. He's sore. A woman enters the apartment. Henry drags her into the bathroom. He fastens his "lips to her red mouth."
"Please, please," she begged, trying to squirm out of my embrace. "You'll disgrace me." I knew I had to let her go. I worked fast and furiously. "I'll let you go," I said, "just one more kiss." With that I backed her against the door and, without even bothering to lift her dress, I stabbed her again and again, shooting a heavy load all over her black silk front.
I closed my copy of Miller's The Rosy Crucifixion, restored my tray table to its upright position, and avoided eye contact with the gaunt elderly woman in the aisle seat as I squeezed past her legs. Read More »