March 27, 2012 | by Emily Witt
Reading the poetry of Michael Robbins is kind of like driving around the parkways and frontage roads of America's suburbs. His poems have a Best Buy, a Red Lobster, a Kinko's, a Pizza Hut, and a Guitar Center; they reference the slogans of Christian billboards and the bumper stickers of hippies; they offer the choice between Safeway and Whole Foods and between the corporate classic-rock station, the corporate urban-music station, and All Things Considered. The poems are heavy with concern for the elephants, the whales, and the freedom of Tibet. They have a Rhianna song stuck in their heads.
Among poets, Robbins follows in the footsteps of Frederick Seidel and Paul Muldoon in writing about contemporary life using more traditional poetic forms and rhyme. He also references and sometimes even quotes Philip Larkin, John Berryman, Theodore Roethke, Wordsworth, and others. But Robbins is more playful and less grandiloquent than his sometimes-grim forefathers: after reading his first book, Alien vs. Predator, the two things I kept thinking of were not poetry at all, but rather the short stories of George Saunders and the video art of Ryan Trecartin. As Saunders did with marketing jargon and Trecartin with reality television, Robbins congeals his suburban idyll, transforming its vacant vernacular into unsettling poignancy. And sometimes it's even funny.
I reached Robbins by phone in Hattiesburg, Mississippi. We spoke the day after Rick Santorum's victory in that state's Republican primary.
Where are you working right now?
I'm a visiting poet at the University of Southern Mississippi in Hattiesburg, which is where I'm staying and just waiting until I get out of this city.
You don't like it?
The people are great at the university, my students are great, but Hattiesburg is … it's just like if you opened a university in a Taco Bell, basically. It's just the ugliest place I've ever seen in my life. Read More »
June 28, 2011 | by Emily Witt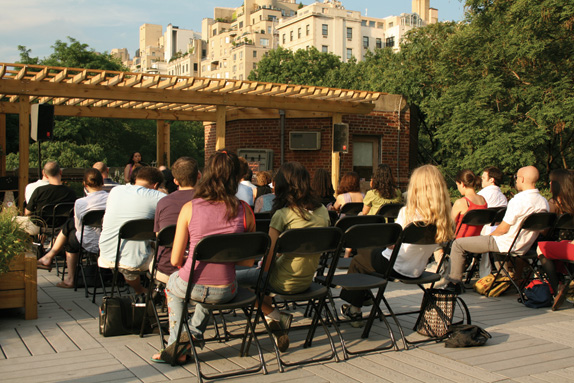 The Academy of American Poets promised youth. "All very hip, young, cool poets," said the invite for a recent Thursday-night reading on the rooftop of the Arsenal Building in Central Park. And it wasn't just that night's reading. "The entire reading series," the e-mail emphasized, "features hip, cool poets."
On the evening of the hip, cool reading on the rooftop, the clouds hung low and threatened precipitation. The workers of Manhattan, newly released from their cubicles, surged up Fifth Avenue to Central Park, breathing in the cultivated scents of high-end retail that punctuated the doorway of each storefront.
"I'm sick of hearing about Barack Obama," said someone walking behind me on Fifth Avenue, as I, newly released from my cubicle, inhaled the spicy, luxurious air that poured out the doorway of Henri Bendel. "You know?" she said to her companion. "I'm sick of the jokes."
The skyscrapers all had trees growing from their atria or complex terraces of ferns sprouting beneath their glass panes. They looked like magazine ads for oil companies. Mr. Softee trucks lined 59th Street, which was also seething with joggers. Around the stoplights the young joggers clustered, running in place. They all wore T-shirts that read "The J. P. Morgan Corporate Challenge." They jogged to and fro on some sort of athletic scavenger hunt; hip, young, cool corporate types on what appeared to be a fitness mission that promised team building but also possibly resulted in charitable contributions. (I looked it up later: "Forty companies celebrated fitness and camaraderie in one of the world's greatest urban parks, while raising funds for the Central Park Conservancy.")