May 29, 2015 | by Emily Stokes
"As usual the world was powdery and blue, like a rococo miniature. I was driving underneath the tree canopy and behind those trees were mansions and their many vehicles, gently arranged on the drive. It was the world as I had always known it, when being driven by my parents to music lessons or football practice or the first ever parties of my youth, the ones that ended at dawn with everyone staring at each other calmly in a field, feeling tired. That was how I always lived, out here on the outskirts of a giant city: the world occurred to me as a series of impressions seen from the windows of a car."
Adam Thirlwell's third novel, Lurid & Cute, is made up of such impressions—charming, nostalgic, not quite tethered to reality. The unnamed narrator—formerly a child prodigy, he tells us—is a privileged young man who has quit his office job to pursue his art, and who now lives with his wife at the house of his adoring parents. His talent, as he puts it, is mostly for thinking. The observations above occur to him as he drives his bloodied, comatose best friend to the emergency room, having discovered her suffering some kind of hemorrhage in his hotel bed after a night of ketamine and sex.
At thirty-six, Thirlwell dresses like a youngish teenager—silver sneakers, jeans, T-shirts emblazoned with the Eiffel Tower—and looks perpetually exhausted. In our Skype conversation, he had a way of speaking that, like one of his characters, "sometimes seemed like teasing and sometimes seemed like it wasn't and it wasn't always easy to be able to tell the two apart." "Multiplicity! Levity! World History!" he later wrote to me in an e-mail about what he seeks in his reading. "Those kind of T-shirt slogans."
Your dialogue is very funny. It seems very stylized but then, when you read it aloud, it's perfectly realistic. Do you have rules for dialogue? Whose do you admire?
Maybe perversely, I love Henry James's The Awkward Age, which is written almost entirely in dialogue and is therefore almost incomprehensible. Everyone is speaking in intimation and allusion—which is so much like life that the reader has desperately to work out what the degrees of irony and lying are. That kind of flatness seems to me the ideal. There's a great moment in a Lampedusa essay where he praises the dialogue in Stendhal's novels, because none of it is celebrated, nothing is quotable. I wonder if in novels, rather than plays or screenplays, the dialogue can become this baroque surface thing, because it's free to be as close to audiotape as possible, without the burden of meaning anything, or conveying plot. Although I don't know if this is some kind of London problem—how little is actually said in conversation. Okay, sure, there might be mutual understanding—but the sentences are only nonsense, or nonsense poetry. Read More »
February 14, 2012 | by Emily Stokes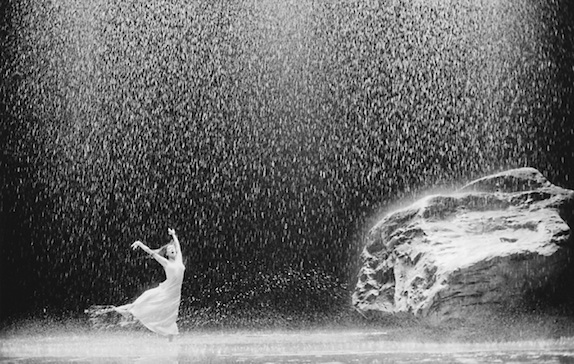 In one of Robert Walser's Berlin Stories, "In The Electric Tram," the narrator describes the feeling of well-being that comes with sitting in a moving vehicle on a rainy afternoon: the joy of lighting a cigarette, the satisfaction of composing a tune in his head, the urge to strike up a conversation with the reticent conductor. His gaze takes in the other passengers: "the drooping mustaches, the face of a weary, elderly woman, a pair of youthfully mischievous eyes belonging to a girl," before happily settling on his footwear. "I must say," he confesses to his reader, "I have achieved a certain technical mastery in the art of staring straight ahead."
The German industrial city of Wuppertal still has a functioning electric tram, which hangs from long beams like an aerial camera and which travels through Wim Wender's new 3-D dance movie, Pina, an homage to the German choreographer Pina Bausch. It is a running joke, appearing during the movie's opening titles as the audience grapples with their 3-D glasses and cropping up in different scenes throughout the film—suspended above two dancers performing a duet on a roundabout, or situated below a dancer who, sitting on the tram's old fretwork, shoves his legs around as they pop up like disobedient wooden beams. Later, in the tram's car, a male dancer wearing cardboard cut-out Spock ears takes a seat in the back row and stares straight ahead, apparently oblivious to his appendages—and to the female dancer boarding the vehicle, whose dark hair is entirely hiding her face. She heaves along with her a white pillow as if it were a live thing, making squelching sound effects, before reassuming her anonymity and sitting down. This is Bausch's world—a little like ours, but stranger: perhaps more like Walser's Berlin of 1905, a city of would-be actors and artists, voyeurs and dilettantes, and elderly women with lipstick on their teeth. Pina reminds us of the ways we are all performing to one another and pretending to ignore others' performances, and it's one of the most blissful things I've ever seen on a rainy afternoon. Read More »