December 21, 2012 | by Edward McPherson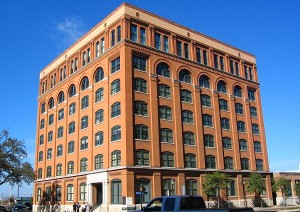 [Read part 1 here.]
Have you ever seen Dallas from a DC-9 at night?

Dallas is a jewel, Dallas is a beautiful sight.

And Dallas is a jungle, but Dallas gives a beautiful light.
—Jimmie Dale Gilmore, from the song "Dallas"
From a Boeing 737 on a sparkling fall day, Dallas looks like a patchwork of mottled greens and browns, the ground more rich and loamy than withered and sere, as if the coming winter were just nature's way of winking. The lakes are murky, the land billiard-table flat, laced with former wagon trails that have now become thoroughfares. Approaching the city, cloned suburban houses sprout in rows that curl and stretch with predetermined whimsy, the pools, tennis courts, and golf courses popping up at neat intervals. Divided expressways thread through the map, the roads laden with cars, pickups, motorcycles, and semis all going, going, going, even on a Sunday, even on a football Sunday.
I am flying into Love Field, an airport that has served Dallas since 1917, when the army named the flying field after First Lieutenant Moss Lee Love, who crashed and died in his Type C Wright pusher biplane four years earlier. Kennedy landed at Love Field at 11:37 A.M. on November 22, 1963. It is a Texas State Historical Site. I am flying into history.
December 20, 2012 | by Edward McPherson
Between 318 and 271 million years ago, the ancient continental core of North America butted against what would become South America. Land folded and faulted; mountains were born. Then what would become the Gulf of Mexico opened, and inland seas washed the peaks away. It pays to remember there are mountains beneath Dallas. The tops may have eroded, but the roots remain buried deep.
Some 165 million years later—in 1841—John Neely Bryan built a shelter on a bluff and called the area Dallas.
One hundred and twenty-two years later—in 1963—John F. Kennedy was shot on that bluff, now named Dealey Plaza.
Seventeen years later—in 1980—J. R. Ewing was shot on TV.