December 17, 2013 | by Dannie Zarate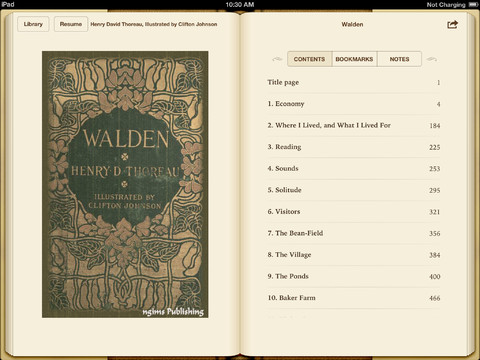 Recently I took my iPad to a park across a lake, sat under a tree facing the water, and started reading the e-book version of Walden, Henry David Thoreau's classic avowal of the possibility of, as well as the necessity for, simplicity amid modern life's profusion and superfluity. Cognitive dissonance doesn't get much more dissonant than this.
"Our inventions are wont to be pretty toys … improved means to an unimproved end," wrote the handyman sage in the book's first chapter, titled "Economy." Few toys are prettier than the iPad, and its prettiness is by no means a feat of economy. Its minimalism, for one, belies the complexity of thought that went into its design, while its ease of use obscures the intricacy of the industry behind its manufacture. That there's nothing new and improved about its ends should be evident from the resemblance between the categories of apps in the App Store and those of stores listed on the touchscreen directory at the entrance of shopping malls—that harried shopper's guide to the nonvirtual versions of apps for games, books, sports, lifestyle, and even social networking. Or especially social networking, come to think of it, when you consider that the din from the food court or the theater lobby is nothing more than the noise from so many short messages being broadcast on an unmetered network with unlimited bandwidth.
But what does it matter if my iPad is merely a prettier means to pedestrian ends that are, in Thoreau's words, "already but too easy to arrive at"? Does that make it one more toy to be transcended or tucked out of sight when meditating on sufficiency? I also own a paperback edition of Walden, its pages worn yellow with age and marred with the fervent notes of my much younger self. It has none of the iPad's high-precision electronics; the letter m is smudged in several places, and yet it's lost none of its functionality. And apart from enlightenment, it has only one other app, as a paperweight. Is this nonmultitasking relic the authentic medium for the all-in-one manifesto and proof-of-concept of the uncluttered life? Read More »