December 19, 2014 | by Colin Fleming
The great English tradition of Christmas ghost stories.
I've long thought of Christmastime as a season of mostly pleasant intrusions: thirty or so days of remembering to tend, checklist style, to the latest pressing bit of Yuletide business that comes racing back to you. The well wishes. The trip to the Home Depot. The seasonal ales.
This is the Fezziwig side of Christmas, that portion that makes you look up the word wassail when you encounter it and think, Ah, that would be fun. But what of the darker elements of Christmas—and what of Christmas for those people who enjoy making merry most years but may have hit upon a bit of a tricky patch? What succor of the season might they find at the proverbial inn?
Having experienced both sides of Christmas, there is but one constant I am aware of that serves you well both in the merriest of times and in the darkest: the classic English Christmas ghost story. You'd think Halloween would be the holiday that elicits the best macabre stories, but you're going to want to check that opinion and get more on the Snow Miser side of the equation. Time was the English loved to scare you out of your mind come December, but in a fun way that resulted in stories well afield of your typical ghost story outing. Read More »
December 13, 2012 | by Colin Fleming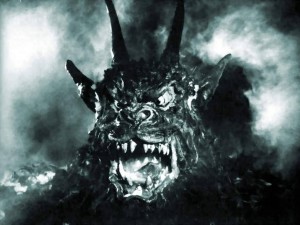 Up until the early spring of this year, I considered myself an absolute Christmas fiend. Not in the Grinch sense of breaking out the Boris Karloff accent and green grease paint and plotting how I might swipe presents, but rather trying to figure out, as early as possible, how best to immerse myself in a holiday that I loved like no other, in a typically over-the-top fashion. You know that person you read about, who bops his head along to Christmas songs on the oldies station—yes, Brenda Lee, you rock around that tree indeed!—the day after Thanksgiving, who insists on seeing Rudolph "live," every year, because it's just more real on TV than Blu-ray? I was that guy. Before I had occasion to become a different guy. And before I decided to spend this holiday season with M. R. James.