November 26, 2012 | by Alex Siskin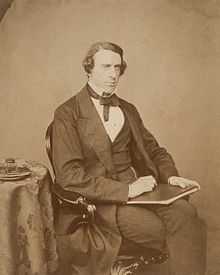 Leslie Stephen is best known today as the father of Virginia Woolf and Vanessa Bell. But in his day, Stephen was a distinguished critic and author in his own right. And, not incidentally, a pioneering mountaineer who made early and important contributions to the literature of what is known as the golden age of alpinism.
Leslie Stephen arrived in Cambridge University in 1851 with a fair amount of emotional and intellectual baggage. His father, James Stephen, was the colonial undersecretary, a pretty big job at the height of the British Empire. His older brothers, Herbert and James Fitzjames, had preceded him at Cambridge. Herbert had recently died of a fever in Dresden, on his way home from Constantinople, a tragedy that rocked the family confidence and strength, especially that of the overworked elder James, who began heading down a steady decline. James Fitzjames, meanwhile, quickly stepped with authority into the role of eldest son. He was an Apostle at Cambridge (Leslie was not), and moved swiftly to follow in his father's footsteps toward a distinguished legal career. James Stephen played a central role in abolishing slavery in the British Empire; James Fitzjames Stephen went on to singlehandedly write the criminal code of India.
Leslie Stephen was cut from different cloth: he was a skinny weakling who had become addicted to narrative poetry in early adolescence. Because he was clearly the most sensitive of James Stephen's sons, his father marked him for the clergy, and he would indeed be ordained in the Anglican Church. Read More »