October 22, 2013 | by Albert Mobilio
So just what is the "thingness of the thing" that Heidegger was talking about? The phrase's riddlesome poetry could easily have been penned by John Ashbery, instead of the crusty German phenomenologist. Is Heidegger suggesting that material things possess an essence, an abstract quality that both defines and constitutes, say, a shoe—its shoeness? Perhaps, but Ashbery, in fact, offers a more straightforward assessment of the unseeable stuff that makes stuff stuff in the opening lines of "Grand Galop": "All things seem the mention of themselves." Such are my thoughts as I roam the rooms of Ashbery's Hudson, New York, home … well, only to the degree that the galleries at Loretta Howard, in Chelsea, have been decorated with trompe l'oeil drawings—wainscoting, doorways, mantels—to look like the rooms of the poet's well-appointed nineteenth-century house.
Thoughtfully curated by Loretta Howard Gallery and poets Adam Fitzgerald and Emily Skillings, the show offers a selection of Ashbery's own paintings, prints, collages, bric-a-brac, and furniture; it's all cozily arranged to conjure as much domestic atmosphere as might be had in a gallery space. Kitschy figurines, VHS tapes (Daffy Duck and Jack Benny among them), bawdy toys, and hand-painted plates line the shelves of cabinets and bookcases that could have been lifted whole from Ashbery's parlor. Other items, like the French Provincial chairs and Oriental rugs, have been. They complement a piano drawn on a wall on which are hung several selections of early twentieth-century sheet music ("Mr. and Mrs. Is the Name," "Flirtation Walk"), as if resting on the instrument's music desk.
Alongside such homey items (the cartoons playing on the TV jangle in a familiar way with the filigree wallpaper designs) are pieces by many of the poet's friends and artistic confederates, such as Joan Mitchell, Fairfield Porter, Larry Rivers, Trevor Winkfield, Jess, Alex Katz, Jane Freilicher, and Willem de Kooning. There's a gemütlich vibe, equal parts wry and melancholic, generated by this assemblage of things cultural that ably recalls the mood and manner of Ashbery's writing. To elucidate this point, the curators include wall text featuring apt passages of his verse that treat the world, if not the mind, as a congeries of curios, a kind of Cornell box. Of course, the show includes a few of those; with poems populated by Popeye, Henry Darger, Chopin, Faust, Parmigianino, and a myriad of other, less identifiable references, it's no surprise that Ashbery is a devotee of Cornell's eclectic connoisseurship. Both share an affinity for the metaphysique d'ephemera, an aesthetic that elevates the trivial to the transcendent. Read More »
May 29, 2013 | by Albert Mobilio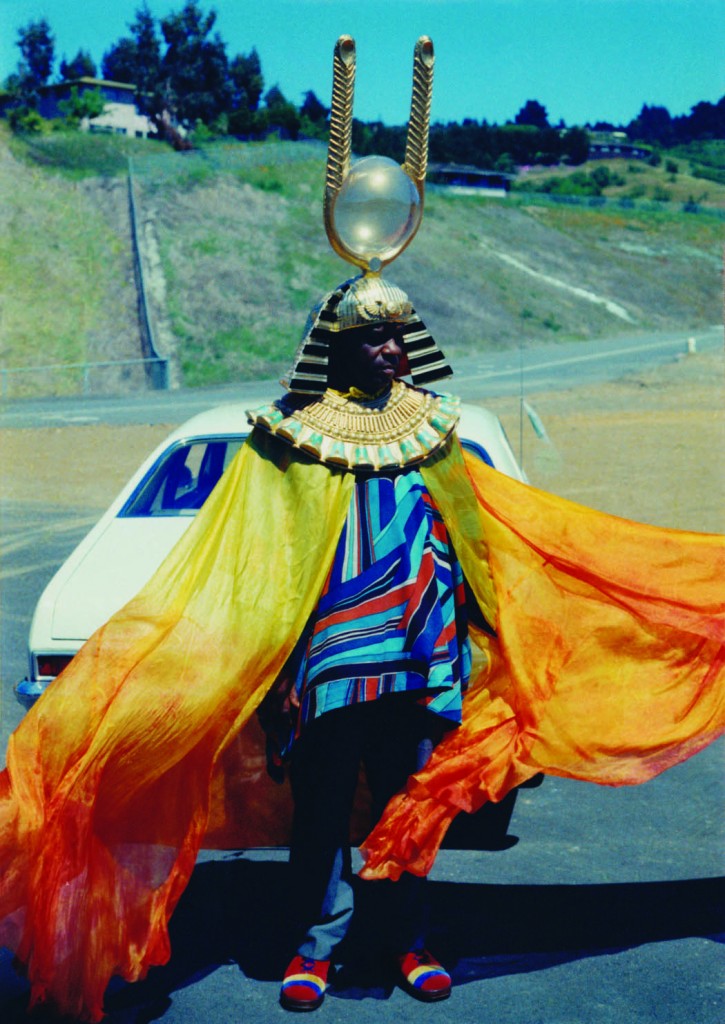 His names were many: christened Herman Blount, he reinvented himself as Sonny Blount, H. Sonne Blount, Le Sony'r Ra, and, finally, what he called his "vibrational name," Sun Ra. Ra's band, too, was rich in appellation—one could compile a dizzyingly poetic list of its nearly fifty names, including the Myth Science Arkestra, the Intergalactic Research Arkestra, the Cosmo Drama Arkestra, the Transmolecular Arkestra, and the Love Adventure Arkestra. As many names, Ra might have said, as there are stars in the sky. This jazz visionary was born in Birmingham, Alabama, and not on Saturn, as he often claimed; in Chicago, in the late forties, a young Sonny Blount played piano with Fletcher Henderson, sharpening his formidable skills as a composer and arranger with the big-band legend. The combo Ra formed soon after was part cult, part family. He called his musicians "tone scientists"; they humbly described themselves as "nobodies with the master." He taught them to play a kinetic, improvisational swing (bachelor-pad wailing for the pharaohs) that drew on his own spiritual bouillabaisse of Egyptology, Kabbalah, numerology, the Nation of Islam, Neoplatonism, Swedenborg, and Edgar Allan Poe. During performances, Ra wore a metallic cape and crown, while his band and dancers, in similar Afro-Space garb, threaded through the audience conjuring tribal magic and orbital ecstasy.
In 1972, Ra signed a multi-album deal with ABC/Impulse! Records and recorded what would become his most popular disc, Space Is the Place. The new, sleek volume Sun Ra + Ayé Aton: Space, Interiors and Exteriors, 1972 offers a trove of photographs once thought to be lost that show the musician in full regalia on location in Oakland, California, for the production of a film that was to accompany the album. Also included are photos of murals done by Ayé Aton, a Chicago artist who shared Ra's cosmological inclinations. Read More »