March 12, 2013 | by Adam Thirlwell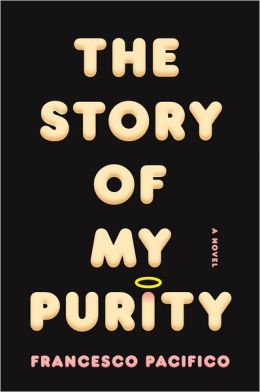 Francesco Pacifico's novel The Story of My Purity is narrated by Piero Rosini. This Piero seems like most other modern schlubs—thirty, overweight, bourgeois, in a sexless marriage, you know it—but the thing that makes him unusual is his deep belief in Christ. This is the most Catholic narrator in contemporary literature. He is also the funniest Catholic narrator in contemporary literature. And what happens to Piero is some kind of picaresque adventure that takes him from Rome to Paris and beyond, into all the problems of his innocence. What else do you need to know about Piero's creator? Francesco Pacifico is also a translator from English into Italian, and translation is something we talk about a lot. In fact, he has almost definitely read more fiction in English than you have. And if an inglese italianato is the devil incarnate, then what does that make an italiano americano? I just mean that Francesco Pacifico is one of the least innocent novelists I know.
There's a moment where Piero says "nobody's Roman," and this setting of Rome is crucial to the book's opening. So my first question is, are you Roman?
I am, and I'm not. I was born in Rome and have lived there all my life. But I don't know how to cook trippa and pajata, I know nothing of Rome's cuisine pauvre, my family's half-assed culinary traditions are half abbruzzese and half everything. My father's side comes from L'Aquila, Abbruzzio, where my granddad's family was big during the Fascist era, or so I'm told. My mother's side is from everywhere, the hills of Sabina, and remotely Spain and France, and they travelled the country as my granddad was an engineer for the electric company—Milan, Genoa, Terni. I don't feel Roman. You can spot a real Roman from miles. Savvy, gritty, ironic. I'm not.
And now—to keep with first things first—could you talk a little about this theme of purity? It seems such a gorgeously perverse subject for a contemporary novel. What's the beauty of purity?
I experimented with not having sex for years. And I am a renowned lover of women. There was a time in my midtwenties where I thought of my life as an ongoing piece of performance art, and I realized the big thing I should try was to stop having sex. I had this romantic view of my love for my girlfriend being exalted and enhanced by abstinence. I became impotent. Read More »
December 20, 2011 | by Adam Thirlwell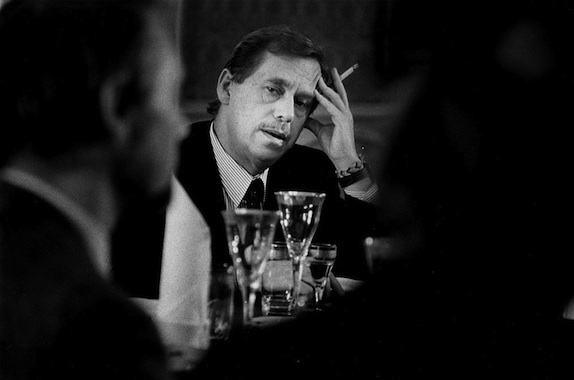 My first memory of Václav Havel is of watching the news as a kid, after the Hanna-Barbera cartoons, and seeing pictures of Havel in his living room: a prison of stuffed bookshelves. For me, Havel was the image of a literary hero, an ideal of literature as integrity.
I've always, in other words, been a sucker for the questions of Prague—especially Prague in the era of Soviet Communism, probably because these questions all relate to a larger problem: a writer's responsibility and resistance to political life, the serious business of being flippant. In the setups of his farcical plays and—following his imprisonment in 1977 for involvement in a human-rights charter—through the patient linguistic analysis of his essays, Havel's subject was always the same: how language can be made to connive in unreality. But he also believed that words could be renovated, that a politics was possible. And this hope led him, for instance, to the courage of the following statement in his 1977 trial: there were certain words, he said, "which recur continually in the indictment and which one would describe as loaded, words like subversion, lies, malice, illegal organizations, anticommunist centers, vilification, hatred and so on. However, when one looks closely at these words, one finds that there is nothing behind them." Just as it made him read Bellow's libertine Herzog, in prison, in these dissident terms: "A professional with 'words' goes mad in a situation where words have no weight. He clearly lacks what we do not, which is to say a situation in which words have so much weight that you must pay quite dearly for them."
This was why, in the summer of 2010, I found myself proposing a Paris Review interview to Havel. I wanted to ask him my own series of Prague questions, about his love of Bohumil Hrabal's stories, the cinema of the Czech New Wave, his intuition of farce ... These questions, basically, were one big question: What was it like for a writer, as he did, to end up in the Presidential Palace?
The Interview, however, turned into a melancholy comedy of its own. Read More »