May 11, 2012 | by Albert Cohen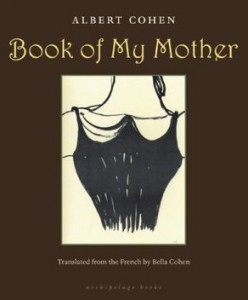 Shortly after fleeing to London from Nazi-occupied France, novelist Albert Cohen learned of his mother's death in Marseille. His grief took the form of a series of personal essays for La France libre, which later grew into Book of My Mother. It was translated into the English by his wife. In honor of Mother's Day, we bring you this excerpt.
She waited three hours for me in that square. Three hours which I could have spent with her. While she was waiting for me, wreathed in patience, I chose to concern myself, stupidly enthralled, with some poetic amber damsel, abandoning the wheat for the chaff. I missed three hours of my mother's life. And for whom, good God? For an Atalanta, an attractive arrangement of flesh. I dared to prefer an Atalanta to the most sacred goodness, to my mother's love, my mother's incomparable love.
Incidentally, if some sudden illness had deprived me of my strength or merely all my teeth, the poetic damsel would have pointed me out and ordered her maid to sweep away that toothless garbage. Read More »